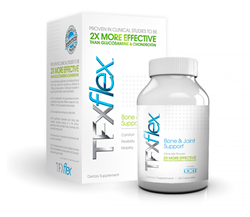 I noticed a big difference in my Joint Pain within the first week of using TFX Flex.
Salt Lake City, UT (PRWEB) September 11, 2013
A company spokesman for TFX Health, LLC, announced that, "A new human clinical study published in the Journal of Alternative and Complementary Medicine has provided further clinical evidence that UC-II® Undenatured Type II Collagen promotes improved joint flexibility, mobility and comfort in as little as seven days." UC-II® is one of the key active ingredients found in the company's popular TFX Flex™ joint health supplement that was launched at GNC earlier this year.
The results of the new study published in 2013 corroborates the results of an earlier 2009 human clinical study published in the International Journal of Medical Science that showed that UC-II® was 2X more effective than glucosamine & chondroitin for joint pain relief. Many test subjects reported positive results within the first week of study. [Int J Med Sci. 2009; 6:312-321].
TFX Flex™ customers are also experiencing positive results. J.Monnier, reported, "The usual daily pain in my joints is much less with this product. I noticed a difference by the end of the first week." M. Jacobsen, explained, "After two knee surgeries, I was skeptical after trying just about everything out there for my knee aches so I'm glad that I gave this a shot as it worked great, and I was feeling results in less than a week."
The new 2013 randomized, double-blind, placebo controlled study was conducted by JK Udani, MD of Medicus Research. The author of the study concluded that, "In a population of healthy subjects who only experience joint discomfort upon physical activity, UC-II® appears to be effective in alleviating joint discomfort." The author further noted that, "Supplementation with UC-II® was well-tolerated and more effective than placebo in supporting joint comfort, flexibility, and mobility." [JACM, 2013; 19:A4]
UC-II® was developed by a team of scientists with more than 25 years of experience in the development of patented, clinically proven dietary ingredients. It holds 7 international and U.S. patents and is supported by 9 human clinical studies, including research at Harvard Medical School.
A TFX Health company spokesman explained, "The science behind joint health is rapidly changing. Glucosamine & chondroitin are no longer the only options for joint pain relief and certainly not the best option."
Since its introduction more than 2 decades ago, the combination of glucosamine and chondroitin for joint support has dominated the joint health industry, exceeding $2 Billion in annual worldwide sales making it one of the best selling dietary supplements in history. Despite its dominance in the industry, glucosamine & chondroitin has recently come under fire from the scientific and medical community with serious questions about the efficacy of this combination for joint pain.
A study published in the British Medical Journal in 2010 concluded that, "glucosamine and chondroitin, either taken together or separately, have not shown a clinically significant improvement in joint pain relief for patients troubled with knee or hip osteoarthritis." [BMJ 2010; 341:c4675].
More recently in 2012, the European Food Safety Authority (EFSA) denounced joint support claims for glucosamine. The EFSA panel concluded that, "a cause and effect relationship has not been established between the consumption of glucosamine and maintenance of normal joint cartilage in individuals with osteoarthritis." [EFSA Journal 2012;10(5):2691].
As part of its ongoing effort to offer better solutions for joint health, TFX Health, LLC teamed up with GNC earlier this year to launch TFX Flex™, a product formulated to offer a safe and effective solution for the entire musculoskeletal system. Since its introduction, TFX Flex™ has become GNC's best selling triple threat for bone, muscle, and joint health.
To learn more about TFX Flex™ Joint Health Supplement please visit http://www.TFXflex.com/. The product is also available at GNC.
About TFX Health, LLC
Based in Salt Lake City, TFX Health, LLC is an innovative pioneer in the development of advanced health and wellness products. All products are manufactured in the USA in FDA registered, GMP compliant facilities and sold worldwide through online and traditional retail channels.
UC-II® is a trademark of InterHealth N.I. Clinical data available upon request. U.S. Patents 5,645,851; 5,637,321; 5,529,786; 5,750,144; 7,083,820; 7,846,487, EPO Patent 1435906B1 and worldwide patents pending.