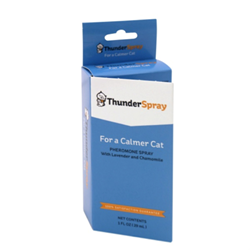 Pet stress and anxiety continue to be major problems for pets, and products like ThunderSpray provide the solution your pets deserve.
Durham, NC (PRWEB) September 12, 2013
Phil Blizzard, founder of ThunderShirt, is pleased to announce the newest addition to the line of ThunderWorks calming solutions for pets - ThunderSpray for dogs and cats. ThunderSpray will join the expanding line of ThunderWorks products including the newly released ThunderTreat, ThunderToy and ThunderLeash as well as the ThunderShirt, which has been calming millions of pets worldwide since 2009.
ThunderSpray calms and comforts pets by mimicking a mother's natural pheromones and is comprised of soothing fragrances of lavender and chamomile. ThunderSpray can be used in two ways: by spraying a single burst in the area where pets spend time, like a car or crate, or in conjunction with the ThunderShirt and sprayed on the neck of the ThunderShirt. The calming pheromones and fragrances will continue to release for an extended period and the liquid will dry stain-free.
"ThunderSpray provides yet another calming solution for pets who may be fearful of vet visits, travel, thunderstorms, suffer from separation anxiety or have fear issues in general," said Blizzard. "Pet stress and anxiety continue to be major problems for pets, and products like ThunderSpray provide the solution your pets deserve."
ThunderSpray is available for both dogs and cats, retails for $19.95 and can be purchased online at http://www.ThunderWorks.com.
If you would like more information about this exciting new product, or if you are a member of the media and would like to request a product sample, high-resolution image or additional product information, please contact Kerry Sutherland at K. Sutherland PR, Kerry(at)ksutherlandpr(dot)com or 949-328-4895.
###
About ThunderShirt and ThunderWorks
Founded in 2009 in Durham, N.C., ThunderShirt's mission is to bring relief to the millions of dogs, cats and their families struggling to cope with anxieties. The ThunderShirt is designed to apply a constant, gentle pressure to a dog or cat's torso creating a dramatic calming effect for most users. ThunderShirt continues to investigate anxiety and fear issues with scientific-based studies and surveys from recognized veterinarians and pet owners. ThunderShirt has already helped millions of dogs and cats across the country and around the world. The company also donates thousands of ThunderWorks products and funding to rescue groups and shelters to help these organizations manage their anxiety cases and find permanent homes.
In recognition of the company's expanding product line into more calming solutions, ThunderShirt has changed its corporate name to ThunderWorks. As always, the company is committed to developing calming pet products that are effective, simple to use and strengthen the bond between pet and pet parent. Together, let's be better humans to our pets. Products are sold at http://www.ThunderWorks.com and by retail stores, veterinarians, trainers and kennels across the country.