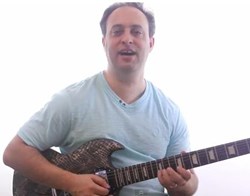 (PRWEB) September 11, 2013
Guitar Control, the leader in comprehensive DVD-based courses and YouTube lessons, announces the release of "Lead Guitar Lesson - Picking Secret. Intelligent Picking." the latest in their series of free instructional videos that are available on YouTube.
In this lesson Claude Johnson, the Founding Father of, and guiding force behind, Guitar Control, offers another preview of the information and insight available in his recently released DVD-based course: "Supercharged Soloing Made Simple." This time, the focus is on picking techniques. Although not all guitarists employ a pick, it is especially useful when a sharp attack and a crisp tone are desired, as in most Rock and Metal playing. Using a pick has its own learning curve, and even though using a pick seems simple, there are different approaches to picking.
In this lesson, Claude explains the two common picking styles ("Economy," named for its economical and simple downward motion, and "Alternate," where the pick is used to play a note on the downstroke and another on the upstroke) and details the advantages of each. But while each has advantages, at times either may fall short. So Claude suggests and demonstrates, what he terms, "intelligent picking."
Basically, this is a combination of styles, something that, on the surface, seems simple enough. For this example, Claude plays a diatonic lick, and the available tablature notation shows both the lick and the picking pattern, providing an easy way for the student to practice the technique. This lick demonstrates how this approach can work, but as Claude emphasizes, picking intelligently demands both thought and practice. Intelligent picking places the burden squarely on the player; he or she must decide when to switch from one style to the other, in order to best serve the music being played. The payoff, of course, is in how intelligent picking can help a player to make his or her personal musical statement.
An enthusiastic and understandable teacher, Claude explains concepts clearly, and demonstrates techniques simply. If this preview is any indication, "Supercharged Soloing Made Simple" will find an appreciative audience.
Guitar Control is a consortium of professional guitarists dedicated to providing the highest quality musical instruction. Producing both web-streamed lessons and comprehensive multi-DVD courses, Guitar Control offers instruction for every style of playing and for all musical genres. Guitar Control's YouTube channel offers 382 (and counting) free video lessons.