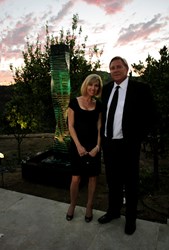 Art can save lives.
(PRWEB) September 11, 2013
Renowned California sculptor David Falossi created a granite and glass sculpture entitled "Life Spiral" that was auctioned for The Brent Shapiro Foundation for Drug and Alcohol Awareness on Saturday night, September 7, 2013 at The Brent Shapiro Summer Spectacular Event held at The Greene Mansion in Beverly Hills, CA.
When asked why he chose this foundation for his inspiration, Falossi said, "It's all about saving lives and if my art can play a part in that, it's amazing. We all have been affected in one way or another from alcohol or drug abuse. The current strategy used to help people is retroactive; wait until someone hits bottom and off they go to jail or rehab or in some cases they die. The Brent Shapiro Foundation is proactive, aiming it's efforts at recognizing addiction in families and preventing overdose. They also have educational tools for school children with a positive approach. I have a large family and I was really moved by the Shapiro's story, so I had to help."
Falossi's sculptures are collected for their visual impact and are typically the main focal point in high end residential and commercial environments. Life saving will now be added to his accomplishments.
The sculpture that included a water element was sold for a significant amount that will help fund the foundation's educational efforts to end drug and alcohol abuse.
A short video of the auction and vibe: http://youtu.be/MDEms81m_Eo
For more information on The Brent Shapiro Foundation: http://www.brentshapiro.org.
For more information on David Falossi :http://www.falossistudios.com.