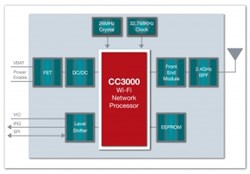 TI's smart multicore processors provide a scalable, high-performance ultra-low power platform that absolutely delivers. If it's mobile, it's made best with OMAP technology and Intelligraphics Engineering.
Richardson Texas (PRWEB) September 12, 2013
IGX Bloodhound Mobile Wi-Fi Sniffer
Intelligraphics wireless engineering team has created a Highly Robust Mobile Hardware Sniffer utilizing Texas Instrument's WiLink 6.0 and 7.0 mobile platforms. The IGX Bloodhound Mobile Wi-Fi solution boasts a single Wi-Fi driver that doubles as a Wi-Fi sniffer, or as a regular Wi-Fi driver and supports Linux 3.x Kernel, Android Gingerbread and Android ICS.
IGX AT+FI Wi-Fi Modem Command Set
The IGXVirtual Wi-Fi modem Command set reduces development time, cuts costs, saves board space, eases certification requirements, and minimizes the expertise required to get a Wi-Fi based product to market. Based on Texas Instrument's SimpleLink™ CC3000, the IGX AT+FI is easily customizable and supports a standard AT command interface and with a lower CPU/memory footprint. The AT command set over wireless is supported on two platforms:
1) MSP430 + CC3000
2) Stellaris + CC3000
The IGX AT+FI is the first choice of companies developing a wireless product that uses the "AT" Command Interface.
Intelligraphics offers Texas Instruments Customers A Broad Offering of Support
Development Platform Support

Beagle series – Beagle, BeagleBone, BeagleBone Black Sitara
Blaze OMAP4
Panda OMAP4
Logic PD DM3730/AM3703 Zoom Torpedo
Gumstix
OMAP4 based high-end handsets & tablets
WiLink Projects for TI Chipsets

Wi-Fi packet sniffing solutions on WiLink based handsets and tablets for Android and Linux
CCX certification support
Wi-Fi certification support
TI CC3k Embedded Wi-Fi Projects

Ported the CC3k Wi-Fi driver to numerous MCU's:
Atmel AVR32
Renesas RX62N/RX63N
STM32

Provided SSL support for CC3k on Stellaris.
Provided an AT command based virtual modem command set layer for CC3k on Stellaris
Supporting CC3k on All Mainstream Microprocessors

Extend CC3k support into market segments with low power applications
Demonstrated the integration of a CC3K with temperature sensor on multiple MCUs
Over the air firmware update for upgrading the MCU and/or CC3k firmware
Over the air configuration (OTC) of wireless parameters like SSID, PSK etc.
SSL Support on CC3k

Support for TLS 1.1
Implemented on Stellaris LM4F232
Matrix SSL ported to No-OS
Intelligraphics engineering team works to complement TI's embedded processors by offering comprehensive operating system support from leading high-level operating systems like Linux®, Windows® Embedded Compact and CE, Android™, and real-time operating systems like DSP/BIOS™ kernel, SYS/BIOS™, Integrity®, QNX®, Nucleus®, and VxWorks®.
"We are proud to be part of Texas Instrument's Third Party Network. Our team provides expert resources to empower their customers to choose the solutions that get their products to market faster, at lower cost and with improved functionality and features," said Scott Lawson CEO, Intelligraphics. "Drop by our table at TI Technology Days Boston and meet our Director of Engineering, Robert Manley and discuss how Intelligraphics Engineering Team can help enhance your product offerings. If your offices are in the New England Area, a visit from us might be beneficial during the days before or after the expo. We are happy accommodate any schedule with an in person meeting."
Recognized as an industry leader for over 20 years, Intelligraphics' Engineering Team provides a variety of expert hardware development, driver and firmware development and system integration services to a worldwide customer base. Intelligraphics has offices in Richardson, Texas and Bangalore, India.