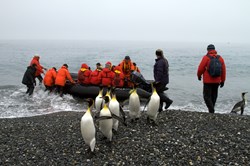 You're looking at a completely different animal than say, a Caribbean cruise on board a mega-ship.
Vashon, WA (PRWEB) September 12, 2013
For most people, an Antarctica cruise is a once-in-a-lifetime visit to experience stunning scenery, massive icebergs and enormous wildlife colonies. It's all the more important for travelers to choose the right trip to fit their interests, budget and length of trip.
A recent blog post by International Wildlife Adventures (IWA), a long-time established provider of worldwide nature travel, explains some of the considerations travelers will want to take into account before they commit to a cruise.
"It's so important for people to do their homework when they start looking at joining a cruise to Antarctica," said Susie Green, director of IWA. "You're looking at a completely different animal than say, a Caribbean cruise on board a mega-ship. Shipboard amenities are less important than what you get to do when off the ship - who would really want to go all that way just to spend their time on the ship?"
"In addition, ask if the ship is ice-strengthened, because that will give maximum flexibility where you can go. How many passengers does the ship carry? Too many people trying to get on shore will degrade your experience of this pristine part of the world. What species of wildlife do you want to see? If you are wanting to see emperor penguins, the world's largest, you will need to choose an itinerary that visits their colonies."
Antarctica cruises and adventure travel in general have become very popular in the past decade as interest in the earth's threatened ecosystems grows. Visitation in the last season (2012-2013) was up about 8,000 to more than 34,000, according to LiveScience. Many of those visitors never actually set foot on the white continent because they were on large cruise ships that aren't allowed to discharge passenger on land there.
Read more about how to choose an Antarctica cruise, or to find out about other worldwide adventures, visit http://www.wildlifeadventures.com or call 800-808-4492 (US & Canada) or 206-463-1943 (Worldwide).
About International Wildlife Adventures (IWA):
Since 1994, International Wildlife Adventures has been providing top-quality nature tours, adventure cruises and photo safaris to thousands of enthusiastic travelers from around the world. The staff of IWA pioneered in developing trips to several top wildlife and adventure destinations, like the now-famous polar bear watching programs in Churchill on the shores of Hudson Bay.