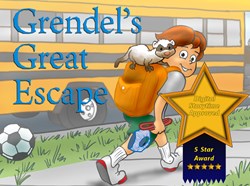 These are the most exceptional, innovative and well-crafted storybook apps for kids. We salute the authors and illustrators that created these great apps for young readers.
Little Elm, Texas (PRWEB) September 12, 2013
Grendel's Great Escape children's digital book app by Blue Sandpiper Imprints is proud to be named as one of Digital-Storytime's Best Books of the Year. It is listed in the top 25 Picture Books for children ages 2-12 yrs old. It is quite an honor to be recognized amongst the thousands of apps within the app store.
Grendel's Great Escape is an adventure story for ages 4-8 yrs that builds reading skills with the use of narration, animation, original music, touch interactivity & games. These activities enhance the reading experience while seamlessly moving the story forward. It encourages the reader to become a part of the story. This app runs on iPad and Android devices.
Author Michelle Anaya who also wrote the popular digitally enhanced Rock and Roll story book app "Monster Jam" skillfully uses digital media to stimulate the imagination of even the most reluctant readers. She uses this interactive medium to foster and encourage a love for reading as a lifelong activity. This will broaden a child's horizon and provide a productive alternative to video games. Her children's literature is making big strides to create productive screen-time for reluctant readers.
Grendel's Great Escape has received many positive reviews, notably for its storyline, original characters, excellent illustrations, narration and music.
Digital-Storytime's five star review: This adorable book app will enchant young readers with a hilarious tale about a young boy who brings his ferret to school. Created by Blue Sandpiper Imprints, this is a perfectly enhanced book app with beautiful, story-related interactivity and lots of polished animation. Grendel explores the school in this humorous tale, taking young readers into all the familiar locations an escaped pet might hide. Educational touches include text that highlights line by line with the expressive narration. Grendel's Great Escape is a tale children will want to re-read.
Blue Sandpiper Imprints book apps provide productive screen-time on Apple iOS and Android devices which includes the "read to me option" with narration and highlighted words to assist beginning readers. The apps also provide thought-provoking games & activities to build problem solving skills while experiencing a visually stimulating story.
Grendel's Great Escape Video trailer
For more information and book reviews please visit http://www.bluesandpiper.com, e-mail mdarvilleanaya(at)gmail(dot)com.