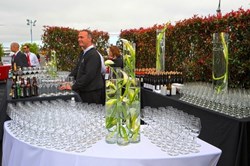 Gordon McCall echoed Jacobs sentiments: We highly recommend Classic Party Rentals, and are eagerly looking forward to working together again.
Los Angeles, CA (PRWEB) September 11, 2013
Classic Party Rentals, the nation's leading full service event rental company, provided the tenting, carpeting, lounge furniture and various furnishings at the McCall's Motorworks Revival in Monterey, California, which was held August 14, 2013.
Gordon McCall's Motorworks Revival at the Monterey Jet Center is one of the most exclusive lifestyle events of its kind in the country. The one night event privately kicks off the World-Class automobile week held each August on the Monterey Peninsula. With an "A-List" of VIP guests from Hollywood celebrities to Captains of Industry, this "Jet Set" crowd arrived in first-class style, to feast on the latest offerings from some of the world's top luxury brands in a relaxed and elegant party setting.
"After many years with another rental company, we were feeling a level of complacency and decided to switch to Classic Party Rentals. Not only were they amazing to work with, but they exceeded our expectations in every way. Our annual event is complex and multi-layered, and CPR worked with us not just as a vendor, but as a partner. They listened to our needs, engaged in the process, and participated in the overall outcome of every element of the event whether they provided it or not. At every turn, they showed a consistent level of professionalism that made everything extremely smooth," says Gordon McCall, CEO of McCall Events.
Classic Party Rentals – Modesto provided more than 6000 glasses, specialty draping all over the jet center, staging for the motorcycles, tables, chairs, linens, tents for registration, custom carpeting all over for the sponsors, lounge furniture for the sponsor suites and custom logos on the light up bars and cocktail tables…a full line up allowing guests to better enjoy more of everything — classic cars and motorcycles, private and military aircraft, food and wine.
"It was a pleasure to associate Classic to an event that brings together celebrities, food, wine, and vintage vehicles and aircraft," says Malina Jacobs, sales manager for Classic Party Rentals Modesto. "We were very excited to work on such an amazing event and are looking forward to building a great partnership," she added.
McCall echoed Jacobs sentiments, "We highly recommend Classic Party Rentals, and are eagerly looking forward to working together again."
About Classic Party Rentals
Classic Party Rentals is the nation's leading full service event rental company. Classic services most major markets including San Francisco, Los Angeles, Chicago, Dallas, San Francisco, New York, and Modesto. Its high-profile event roster includes more than 180,000 major sporting events, brand promotion tours, Hollywood awards shows, movie premieres, celebrity weddings, charity events and private social events annually. Locally, each Classic Party Rentals location is recognized as an integral part of successful holiday celebrations at home and at work, backyard weddings and birthday parties, school and church functions, local food and wine festivals, and many community service benefits. Classic Party Rentals is also a leading nationwide provider of tents, clear span structures, power, heating, air conditioning and sub-flooring. Ultimately, there is no need to lose sleep over the details. If you can dream it, Classic Party Rentals can deliver it. We do business under a number of different names, and customers are never disappointed by our Blue Diamond service or the strength of our partners will bring to events. For more information, please visit ClassicPartyRentals.com. "Creating memorable life moments."
McCall Events, Inc.
McCall Events, Inc. is a unique marketing and public relations company that produces exclusive VIP events creating an atmosphere of relaxed elegance and celebration. Founded in 1992 by well-known automotive aficionado Gordon McCall and his wife Molly, Gordon brings a unique qualification of combined skills to his marketing and PR Company.
McCall Events, Inc. continues its 22nd year of producing Gordon McCall's Motorworks Revival Event at Monterey Jet Center-the "Kick-Off" party for the infamous August automotive week in Monterey, California. This exclusive event entertains more than 2500 guests amongst private jets, vintage cars and gourmet food. Charity is a major focus of the McCall Motorworks event, with the California Highway Patrol's 11-99 Foundation as the beneficiary.