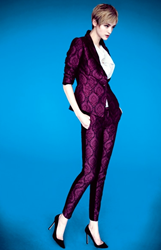 Enjoy savings of 10 to 30 percent off and free gifts with purchase at 40 retailers and restaurants
Seattle, WA (PRWEB) September 12, 2013
Downtown Seattle Rocks the Runway's second annual runway show just got exponentially more fabulous with the addition of co-emcee LaTrina Bidet, whose sense of humor is as renowned as her sense of style. Bidet will be joining Seattle Met's own fount-of-fashion-wisdom Laura Cassidy who promises more plaid, leather and spikes in addition to statement outerwear and dark, moody florals trending this fall. This year's event is sure to top last year's inaugural show for at least one sizzling reason – deals! Five days of dining and shopping discounts follow the party beginning Wednesday, September 18th. Enjoy savings of 10 to 30 percent off and free gifts with purchase at 40 retailers and restaurants including BCBGMAXAZRIA, Coach, Twist and Williams-Sonoma. Seattle Met, Pacific Place, and the Metropolitan Improvement District are extending an open invitation to celebrate the season with the return of the Emerald City's premier collaborative benefit fashion show.
What: Pacific Place and Seattle Met magazine will present Downtown Seattle's second annual collaborative charity benefit fashion show in the atrium at Pacific Place. The runway show will give 250 seated ticket holders a close-up view of some of Seattle's finest autumn clothing and accessories, while hundreds more will enjoy unobstructed views from the balconies above for free. Seattle Met will stage "red carpet" photos for everyone attending the event dressed to impress. Ticket holders also will enjoy cocktail receptions and raffle prizes, while they and the public will get to enjoy special events taking place in and around the stores and restaurants at Pacific Place before and after the runway show. The event is made possible, in part, by event sponsor Metropolitan Improvement District. New this year, Downtown Seattle Rocks the Runway kicks off a city-wide, five-day shopping, dining and savings celebration, September 18-22. Currently there are 40 participating retailers and restaurants signed on, with more to come. For details and updated information on all participating retailers and restaurants, go to http://www.seattlemet.com/runway.
Where: Fashion show kick-off in the Pacific Place Atrium at 600 Pine Street, followed by four more days of sizzling fashion discounts and prizes at participating Downtown Seattle merchants.
When: Fashion show Wednesday, September 18th from 6 to 9 p.m. Seattle shopping, dining and savings celebration Wednesday, September 18th through Sunday, September 22nd.
FASHION SHOW DETAILS
Timeline:
6 p.m.: The Roche Bobois lounge opens for VIP ticket holders on the second floor of Pacific Place, with a cocktail reception featuring fine wines from O Wines, Peroni beer, signature cocktails and appetizers, courtesy of Pacific Place restaurants: Gordon Biersch Brewery Restaurant, Il Fornaio, Johnny Rockets, Mexico Cantina y Cocina, Pike Place Chowder and Thai Ginger. General admission ticket holders also will enjoy their own cocktail reception on the second floor of Pacific Place with wine, cocktails and appetizers.
7:30 p.m.: Downtown Seattle will Rock the Runway with a major fashion show of 40-plus autumn looks from participating downtown retailers, including Nordstrom, Macy's, Barneys New York, Club Monaco, Momo, Mario's, sandylew, The Finerie, Columbia Sportswear, Eileen Fisher, GUESS? and emilie SLOAN among others. In addition, Aveda is providing beauty products and Gary Manuel will style the models' hair for the runway show. Seattle Met's own Laura Cassidy will be on hand to co-emcee the runway fashions with the fabulous LaTrina Bidet.
Admission: Fashion show tickets for General Admission and VIP access are available for $75 and $125 respectively and may be purchased through the event web site, seattlemet.com/runway. General Admission ticket holders will receive seated access to the show, swag bags, cocktails and appetizers courtesy of Pacific Place restaurants.VIP ticket holders will receive premier seating for the show, deluxe swag bags, access to the Roche Bobois lounge and reception, and courtesy valet parking. In addition, hundreds more from the public will have the opportunity to witness the fashion show for free from the balconies above.
Charity Beneficiary: Net proceeds from ticket sales will fund Junior League of Seattle and the organization's programs for child advocacy, childhood nutrition and life skills development for girls in the state's foster care system among others.
Runway Show Retail Participants: sandylew, Nordstrom, Macy's, Barneys New York, Club Monaco, Momo, Mario's, Eileen Fisher, The Finerie, GUESS? and emilie SLOAN.
Runway Show Sponsors: The Downtown Seattle Association's Metropolitan Improvement District, Northwest Cadillac Dealers, Proximo Spirits, Roche Bobois, STAR 101.5, O Wines, Peroni, Aveda and Gary Manuel.
Those partaking in Downtown Seattle Rocks the Runway events are encouraged to use the social media hash tag, #RUNWAYSEA. We'll see you there!
DOWNTOWN SEATTLE SHOPPING, DINING AND SAVINGS EVENT DETAILS
September 18th – 22nd, 2013: Downtown Seattle retailers and eateries continue the celebration all weekend with in-store events and specials including sizzling fashion discounts, gifts with purchase and prizes at participating merchants. Currently, 40 retailers and restaurants have signed on including Nordstrom, Macy's, Seven salon, Coach, True Religion Brand Jeans, Il Fornaio Cucina Italiana, sandylew, Eileen Fisher, Barneys New York, Mario's and more!
Pacific Place is just one of the participants with its ALL FOR FALL event. A new highlight for this year's promotion is double shopping incentives on September 18th only. Shoppers who collect $300 in same-day receipts from Pacific Place shops and restaurants will receive a Pacific Place $100 gift card, and shoppers who collect $100 in same-day receipts from Pacific Place shops and restaurants will receive a Pacific Place $30 gift card. Customers are limited to one promotional gift card per person per day; receipts must be from one shopper only and cannot be combined from multiple guests to achieve a threshold for the gift with purchase. Other restrictions may apply.
Pacific Place features 50 shops, restaurants and an 11-screen movie theatre at Sixth Avenue and Pine Street in Downtown Seattle. Parking beneath Pacific Place is abundant, well-lighted and secure. For more information, call (206) 405-2655, visit the web site at pacificplaceseattle.com, find Pacific Place Seattle on Facebook and follow on Twitter @Pacific_Place.
SagaCity Media Inc., parent­ company of Seattle Met, Portland Monthly, Aspen Sojourner, Park City Magazine, Vail-Beaver Creek Magazine, Portland Bride & Groom, Seattle Met Bride & Groom, Out Aloha, Out City and 18 other custom and editorial publications. Seattle Met and Portland Monthly are both currently among the top 10 biggest-selling city magazines in the nation, and are the no. 1 selling magazines in their respective markets, over all national and regional titles.
The Metropolitan Improvement District is a service district which provides streetscape cleaning, human services outreach, hospitality and public safety services, marketing to increase pedestrian traffic, advocacy for transportation solutions, as well as research and market analysis for businesses interested in locating Downtown. Founded by the Downtown Seattle Association in 1999, the MID is financed through an assessment on Downtown commercial and residential property owners across 285-square-blocks in Downtown Seattle.