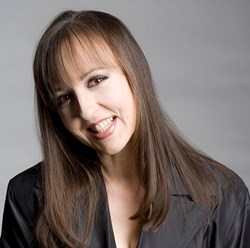 "The tech, finance and entertainment industries are joining forces in ways that will revolutionize our creative and financial futures. With so many burgeoning media platforms, its never been a more exciting time to be a content creator." - Ariane Smith
New York City, New York (PRWEB) September 12, 2013
Award winning writer, whimsical storyteller and producer of live interactive children's events, Ariane Smith will speak at the "New Theater and TV Financing" Event. The Soho Loft and TreveriMarket will be hosting this event that ushers in the monumental historic change in the theater industry.
An artist and entrepreneur to the core, Ariane Smith will share her expertise during the panel discussion on TV and Broadway Financing: Alternative Financing Methods and Digital Media Outlets. Smith's over 20 years of experience as a writer and master storyteller has made her "one of New York's top children's entertainers". Smith says, "It's thrilling to watch the merging of technology, entertainment and finance; and to see the birth of all the new artistic and financial opportunities this hybrid has created."
Ariane Smith's newfangled interactive storytelling shows have been cited in print and on TV. Enchanted Thyme, the first in a six book series she wrote, has become a favorite at the Food Network NYC Wine and Food Festival. This award winning children's novel has received international praise and was named "one of the most sought after cookbooks for the holidays" by America Online. She is currently working on a new 2D animated series for children based on the Enchanted Thyme series.
Smith also wrote the trilogy of THE VENUS CYCLE, commissioned by Tribeca Performing Arts Center in New York City. The play was acclaimed in The New York Times, New York Newsday, The Daily News and Theatre Week. It went on to win many grants including an endowment from the prestigious Harkness Foundation.
Smith will join other thought leaders and finance leaders of the theater and entertainment industry who will converge on Tuesday, September 17, 2013 at the Players Club, Gramercy Park South, New York. The top guys of the theater and entertainment business will talk about the recent colossal change in breaking the old laws and allowing advertising of private offerings to accredited investors.
This event happens barely a week before the almost century-old Securities Act of 1933 gets replaced. Some real change and action on the JOBS Act are actually going to happen even in the entertainment scene. On Monday, September 23, 2013, firms and companies are now able to advertise to the general public to find investors for their TV and Broadway shows.
"In essence, the old laws were upgraded to allow the kind of public solicitation that the Internet and TV have made possible. It means that entrepreneurs will be able to advertise their deals and reach out to more investors," says David Drake, Chairman of The Soho Loft.
David Weild, former Vice Chairman of Nasdaq and Founder and Chairman of Weild & Co. Holdings, is the keynote speaker in this groundbreaking event in entertainment financing. He will later join Ken Davenport, the Tony Award winning Broadway And Off-Broadway producer, on the panel focusing on Regulation A. Ken utilized the crowdfunding model to raise capital for his musical revival production of "Godspell". He will share how he did the public offering via Regulation A to raise $5 Million to finance this broadway production.
The panel on TV and Broadway Financing: Alternative Financing Methods and Digital Media Outlets will have the foremost Wall Street tycoon Glenn Myles, President and CEO of First Wall Street Capital, and Bruce Lipnick, Founder, CEO and Chairman of Asset Alliance and Sunshine Streaming. Mr. Myles previously oversaw capital holdings and investments of Marvin Davis, by leading activities at Davis Entertainment and 20th Century Fox while Mr. Lipnick heads the entertainment firm Sunshine Streaming.
Ariane, who will join this panel, says "The tech, finance and entertainment industries are joining forces in ways that will revolutionize our creative and financial futures. With so many burgeoning media platforms, its never been a more exciting time to be a content creator."
As co-hosts and event organizers, William Scheckel of TreveriMarket will open the night's discussions while David Drake of The Soho Loft will moderate both panels.
For more information and to register, visit:
https://players-club-thesoholoft.eventbrite.com/
Check out other events by The Soho Loft, happening all around the world: http://thesoholoft.com/upcoming-events/
About Enchanted Thyme (http://www.enchantedthyme.com)
Our mission is simple; to entertain, engage and inspire children. To that end, a few things are particularly close to our hearts;
Promoting healthy attitudes toward food through the use of fun stories and adventures interwoven with delicious, healthy and easy to do recipes created by professional chefs.
Encouraging literacy through storytelling that uses "big" words in the proper context. We do this in our high profile live events, our published books and even in our upcoming animated television series.
We believe that kids learn more when they laugh. They eat healthier when it's fun. And they treat each other and the world around them better when they understand how exciting that can be.
MEDIA Contact:
The Soho Loft (http://www.thesoholoft.com)
The Soho Loft is an event-driven financial media company helping firms advertise for investors as your global communications partner.
For press inquiries, contact press(at)thesoholoft(dot)com or + 212.845.9652.