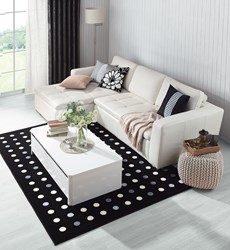 Tustin and Fullerton, CA (PRWEB) September 12, 2013
Nitori Holdings, Inc., the popular retailer and manufacturer of furniture and home décor in Japan, will unveil their first two US stores simultaneously in the United States on Saturday October 19, 2013.
Aki-Home is part of the long-term and global expansion plans of Nitori Holdings, Inc. Currently with 301 furniture and home furnishing stores in Japan and 16 in Taiwan, the two Aki-Home locations will introduce Nitori to the West Coast. Nitori plans to continue expansion throughout the United States as part of an aggressive growth strategy achieving brand recognition globally.
The Southern California area was chosen as the starting point for the US market due to its strong economy, population density, and diverse culture. The continued growth in the region and the consumer demand for furniture and home furnishings were specific reasons for choosing the Orange County area.
The stores will be located in popular retail destination centers including the District at Tustin Legacy, and Amerige Heights in Fullerton. The Tustin location measures 30,000 square feet and Fullerton at 20,000 square feet. Both stores will open with grand opening events starting at 8:30 am and 10:00 am respectively on Saturday October 19, 2013.
Similar to the Nitori stores in Japan, Aki-Home will continue the strategy of high design at value prices. The stores will feature products for the home such as furniture, décor, housewares and accessories. The categories will be organized by "rooms" of the home including: living, dining, bed, bath, kitchen, office and more. In addition, the products will be featured in lifestyle displays throughout the store.
For details on product and Aki-Home visit http://www.aki-home.com .
About Nitori Holdings, Inc.
Founded in 1967, Akio Nitori started his company as a single, small furniture store in Hokkaido, Japan. Following a business trip to California in 1972, he witnessed how differently Americans shopped and lived. Compared to Japan's crowded living spaces, California homes were spacious with separate areas for entertaining and dining. American consumers went to convenient retail stores to buy color coordinated furniture and accessories to enhance their beautiful homes. In contrast, the Japanese had only mismatched offerings to choose from. Most shocking to Akio Nitori was how inexpensive the high-quality merchandise in the US was compared to similar products in Japan. He recalls "I was so astonished by the difference in furniture and interior decor products in terms of price, selection, and quality." It was at this moment that Akio Nitori decided to bring back to Japan what he had learned in the US.
Today, Nitori has 301 stores in Japan and 16 in Taiwan. In addition to retail stores, Nitori Holdings, Inc. also supports manufacturing, logistics, and communications on a global scale.
For further information on Nitori Holdings, Inc. visit http://www.nitorihd.co.jp/en