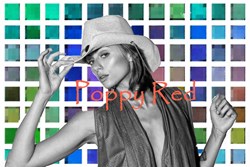 Atlanta, GA (PRWEB) September 11, 2013
Co-founder and Atlanta resident Meagan McBrayer offers consumers a different shopping experience. Known for ever-evolving style, McBrayer launched Poppy Red with the hope to share with women her personal take on current trends and how to make them their own.
Most shoppers know that entering a boutique can cause a bit of sticker shock, but Poppy Red is changing that assumption for its customers. Offering items from clothing to accessories, customers of Poppy Red can piece together fashionable ideas to fit to their needs. Expanding on Poppy Red's core mission is the thought that sometimes the best fashion accessory isn't the one you can just purchase off the rack. Poppy Red believes in creating a curated shopping experience. Co-founder McBrayer offers her personal ideas on fashion picks. Through the website and social media, McBrayer pairs up pieces that can be found at Poppy Red to help set her customers apart from others. Putting her own style sense to use, McBrayer's goal is to offer her ideas and put customers at ease when picking out that perfect outfit for any occasion.
Poppy Red's systematic approach to fashion and lifestyle continues by offering a full array of tips beyond apparel. Taken from many situations derived out of personal experiences, McBrayer shares her tested advice on subjects from dating, professional goals and information relative to the fashion savvy consumers of Poppy Red.
Founded in 2013, Poppy Red's mission is to provide a one-stop shop for fashion and lifestyle. A destination for the fashion-forward tastemakers and risk takers, Poppy Red offers a versatile mix of fashion and accessories while embracing individuality.
For more information about Poppy Red please visit: poppyred.com Poppy Red features inspirational and trend setting looks for fashion-forward women hand-picked by the duo. While online and brick-and-mortar boutiques open constantly, Poppy Red is putting a twist on what's considered normal by offering more than just a destination to shop. Ideas from what to wear for work and play, to suggestions for home decor to lifestyle tips that any young woman can relate to.