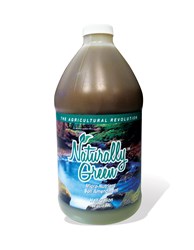 We believe the food we grow should have all the nutrition that nature intended. - Chris Scott, Senior Vice President for Intelligent Design, parent company of Naturally Green.
Dallas, Texas (PRWEB) September 11, 2013
Naturally Green™ Soil Amendment Gel is seeking partners on IndieGoGo to build a production facility. The campaign will kick-off September 13, 2013 and run through October 15, 2013. This scientifically proven product has been in development for over a decade.
The Naturally Green™ micronutrient supplement and soil amendment is sourced from naturally occurring ingredients and concentrated into a soluble gel. The product stems from observations of plants that were flourishing where they were fed by water flowing through a granite mountain near the San Joaquin Valley in California. Naturally Green semi-permeable gel membrane absorbs and holds over 70% of its dry weight in water. When applied to soil it creates a nutrient rich moisture barrier, which helps reduce evaporation while providing plants the essential nutrients they need to thrive. Application of Naturally Green improves leaf erectness, significantly reduces susceptibility to disease, and improves photosynthesis efficiency in both residential and commercial agricultural applications.
"We believe the food we grow should have all the nutrition that nature intended," said Chris Scott, Senior Vice President for Intelligent Design, parent company of Naturally Green. Over the past decades the nutritional value of our foods has continued to decline. "I think most people would be shocked to find the severity of these nutritional deficiencies within our fruits, vegetables and grain."
Our soil is severely depleted of minerals; hence the food we grow is deficient of nutrients. The vitamin C content in broccoli is down 45%. Potatoes have lost over 50% of their vitamin C and iron, 28% of their calcium and 100% of their vitamin A. "No matter how hard we try, we can't get there if we don't solve the problem of our deficient soil." Not only is this lack of minerals in our soil forcing us to use excessive fertilizers, but also chemicals. "Our crops don't have what they need to resist drought or infestation."
The solution to all of these problems is the same: bring the soil back to a natural, mineral rich state. "We have discovered a one-of-a-kind, naturally occurring resource, a gift from Mother Nature. Based entirely on this discovery, we have created a highly unique product, Naturally Green, that puts these vital minerals back into the soil."
Only when these minerals are available during the growing cycle can plants truly thrive. Critical processes, intended by nature, strengthen crops and provide abundant nutrition for the fruits and vegetables they produce. When these nutrients are present in the soil, nature can take over, yielding better crops that contain all the natural, nutritional qualities Nature intended.
Naturally Green works along with traditional fertilizers for stronger crops that yield more and better food. "Through our proprietary processing technology, we are able to take a completely organic solution in its natural state and bring it to a pH balance that creates the perfect soil amendment," continued Scott. "We've already produced 8,000 ½ gallon containers of Naturally Green in our pilot plant. Our production protocols have been proven. Now we're seeking partners to build a full-scale facility near the mountain to increase our production capability and bring the product to market."
"We fully intend to change the course of agriculture and its effect on our lives. Our food can be nutritious again. Imagine how that will affect our ability to fight illness and disease. Connect the dots from poor quality food to the long list of ailments in society today, and it all starts to make sense. When the food we grow can again have all the nutritional qualities that people enjoyed a century ago, we will have accomplished our primary goal: better living for all of us."
Get more information on this revolutionary product at http://www.getnaturallygreen.com.