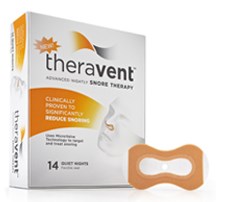 Stop Snoring Now!
Atlanta, Ga (PRWEB) September 11, 2013
The official campaign promotes the benefits Theravent gives snorers and their partners - a quiet night's sleep! It will also feature the newly designed website and a national television commercial campaign highlighting the proven results of Theravent. The campaign kicks off September 15th at 12:01 AM.
In addition to creating awareness through the new website, Theravent, is also pleased to announce an exclusive, free eBook available to download. The Patient-Oriented Guide to Snoring provides insights into the science behind snoring, risk factors, and treatments.
The cutting-edge, effects-driven television commercials match the sound of snoring to a freight train barreling through your bedroom, adding a touch of humor to the issue while simultaneously offering a clear, clinically-proven solution with Theravent.
"Recent polling data showed nearly one in three adults report snoring every night or almost every night. For many, the current solution is sleeping in a different bedroom or simply not getting the sleep they deserve. There is a better way, the clinically proven snoring reduction delivered by Theravent is a story people need to hear," says Matt Williams, President & CEO, Theravent, Inc.
Theravent is clinically proven to significantly reduce snoring by an average of 76%. Using Microvalve Technology to target and treat snoring, Theravent Advanced Nightly Snore Therapy harnesses the power of your own breathing. Theravent Advanced Nightly Snore Therapy does more than just ease snoring for users, it gives 8 out of 10 bed partners a quieter night's sleep. This is significant because it's not just the snorer who suffers through the night, but their bed partner as well - as portrayed in the new television campaign. The tag line, added to the new website, sums up the incredible results in the clinical trials for Theravent Advanced Nightly Snore Therapy: Snoring Stops Here.
Theravent can be purchased online at http://www.snoringstopshere.com or by calling 1.855.265.SNOR (7667). Start with a free 14-day trial of the single-night use, disposable therapy devices then place an order for a 14, 30, or 60-day supply. For added value, enroll in the Quiet Nights Program to receive automatic shipments of supplies every sixty days. Each order has a 30-day, money-back guarantee.
Theravent uses patented MicroValve Technology, previously only available with a prescription, to target and treat snoring. Creating a seal around your nose, Theravent uses a revolutionary method of action, Expiratory Positive Airway Pressure, or EPAP to reduce snoring 76%.