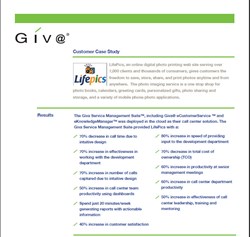 Our overall customer service call center productivity has increase 60% using Giva, said Doug Duggan, Director of Customer Service, LifePics.
Santa Clara, California (PRWEB) September 11, 2013
LifePics has increased the productivity of its customer service call center team by approximately 60% by implementing the Giva® Cloud Customer Service Suite, including Giva eCustomerService™ and eKnowledgeManager™. Productivity improvements came from automation that eliminated many manual steps, providing instant visibility to hot spots and critical issues of 7,000 clients and thousands of consumers and better measurement of call center team productivity.
LifePics, an online digital photo printing web site, gives customers the freedom to save, store, share, and print photos anytime and from anywhere. The photo imaging service is a one stop shop for photo books, calendars, greeting cards, personalized gifts, photo sharing and storage, and a variety of mobile phone photo applications.
"Our overall customer service call center productivity has increase 60% using Giva", said Doug Duggan, Director of Customer Service, LifePics. "We estimate that we are now capturing over 70% more calls than in the past and we have reduced consumer call times on average by 70%. The Giva dashboards have increased the call center's productivity by over 50%. I spend only 20 minutes/week generating metrics, charts and analytics to lead the call center and the information quality is outstanding. Our meetings with senior management are 60% more productive as a result of having outstanding real-time reports that can be run very quickly." [Click to download the case study.]
All the set-up and administration in the Giva customer service call center application is point and click with no programming or script writing. Customers have full control over all administration, so they do not need Giva professional services to do any set-up or customization. It is easy to quickly integrate call scripts into Giva to make sure that agents are following standard operating procedures and providing uniform answers. These call scripts also help new agents quickly come up to speed while they are actually handling calls. Call scripts can easily be added to Giva in a single administration screen and then immediately available to all agents.
"Giva has helped us reduce our total cost of ownership by approximately 70% with their cloud approach, easy administration, intuitive design, and only 1 hour of training", Duggan said. "Our IT department is busy growing, managing and maintaining our core digital photo application. They do not want any disruptions or defocus of maintaining a noncore business application."
LifePics can now measure the performance of their call center team. They have metrics to measure team and individual performance. Giva reporting is extremely intuitive and easy to use. With just a few clicks, they can get the exact reports that they need with little effort. Each report template has a specific purpose and they are very easy to modify with standard report filters.
With the Giva reports and dashboards, LifePics has created a much more data driven company culture. As a result, there is a much higher level of trust between senior leaders, the call center and the development department. "I can now lead the call center with data objectivity and determine the high performers as well as those who need coaching", Duggan said. "I have increased my effectiveness as the call center leader by approximately 50% and I am now a better leader, trainer and mentor. I can view all the metrics and KPIs on my dashboard or quickly access others in my favorite reports. It is very easy to keep updated on major issues with our retailers or consumers."
LifePics now has a much higher level of certainty that they have properly identified and categorized customer issues and prioritize them based upon how much they impact revenue and provide guidance to the development department to set priorities. "Giva allowed us to create a new business process to increase the certainty that our revenue generation is maintained and our customer experience is always being improved", Duggan said. "Overall, the call center is now working 70% more effectively with our development department. The call center's relationship with the development department has radically improved since we have much more creditability. We can get their time and attention since they know that we have reports of bugs, defects and usability issues."
About Giva:
Founded in 1999, Giva was among the first to provide a suite of help desk and customer service/call center applications architected for the cloud. Now, with hundreds of customer driven releases, the Giva Service Management™ Suite delivers an intuitive, easy-to-use design that can be deployed in just days and requires only one hour of training. Giva's robust, fast and painless reporting/analytics/KPIs quickly measure team productivity, responsiveness and customer satisfaction resulting in faster and higher quality decision-making. Customization and configuration are all point and click with no programming or consultants required to deliver a substantially lower total cost of ownership. Giva is a private company headquartered in Santa Clara, California serving delighted customers worldwide.
PR contact:
Email: pr@givainc.com
Phone: 408.260.9000
Giva is a registered trademark of Giva, Inc. Other company and product names may be trademarks of their respective owners.