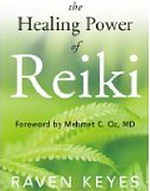 Unbelievable bravery of Rescue Teams was coupled by gentle, healing hands of Reiki Masters who felt their grief and wanted to help.
New York, NY (PRWEB) September 11, 2013
Rescue team members - sleepless, horrified and desperate to help 911 survivors - needed their own support team as well. Raven Keyes, a volunteer, used the ancient tools of Reiki Healing Energy, and with some friends, administered Reiki to provide soothing rest, fragments of peacefulness, and a rejuvenating energy to help those amazing rescue team members return to the impossibly traumatizing work on Ground Zero. Raven Keyes describes these amazing rescue team members and the moments she shared in her award winning book, "The Healing Power of Reiki." She relives a fragment of those days from the point of view of a healer.
Contact information: ravenkeyes.com; ravenkeyes(at)gmail(dot)com; or 212-592-3858
Book Available: On Amazon or through publisher.
"The Healing Power of Reiki"
Llewellyn Worldwide: http://www.llewellyn.com/search_results.php?search_topic=raven+keyes&search_category=products&search_go.x=20&search_go.y=9
Raven Keyes will be on the Dr. Carol Francis Radio Show on Monday, September 23rd at 1:00 PM EDT linked at: http://www.blogtalkradio.com/dr-carol-francis/2013/09/23/reiki-healing-energy-research--author-raven-keyes . Preview on DrCarolFrancisTalkRadio.com
Keyes' upcoming Reiki trainings in New York City:
Reiki Master: September 14 & 15; Reiki I & II: September 28th & 29th; Reiki Master: October 19th & 20th and Reiki Master Teacher: October 26th & 27th.
Currently: Private practice on the Upper West Side of Manhattan; provides Reiki during surgery with breast cancer patients of Dr. Sheldon Marc Feldman at New York-Presbyterian/Columbia University Medical Center; teaches meditation; and is the organizer of a new volunteer Reiki program in Dr. Feldman's office. Ms. Keyes is working on her next book to be published by Llewellyn Worldwide in 2014 and will soon conduct weekly virtual meditations available to anyone throughout the world interested in their own healing, stress-relief and overall wellbeing.
Amazon:
http://www.amazon.com/The-Healing-Power-Reiki-Emotional/dp/0738733512
Contact information: ravenkeyes(at)gmail(dot)com; voicemail: 212-592-3858
Kat Sanborn, Senior Publicist, Llewellyn Worldwide, 510-332-4968, kats(at)llewellyn(dot)com