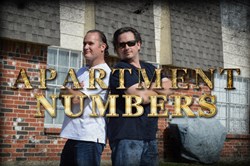 The new Apartment Numbers TV Show website is expected to bring more interested private Real Estate Investors. Those investors make this all possible.

-Darwin German
Dallas, TX (PRWEB) September 11, 2013
The Apartment Numbers TV show team is celebrating the release of their new, simplified website. The New Apartment Numbers TV show website was slow to be released to the public waiting for just the right time.
Darcorp CEO Darwin German commented, "We are so pleased to have a new resource to get the word out about the new show." Darcorp is the company that runs the investment side of the show. Darwin German and his company Darcorp work more on the "Numbers" side of the project. Private investors take part in the project through Darcorp by pooling their money into Darcorp projects. German's team finds and secures properties that fit the needs of the investors. Some of those properties are featured on the Apartment Numbers TV Show.
"The new Apartment Numbers TV Show website is expected to bring more interested private investors. Those investors make all this possible," says German. It is also expected to attract property owners that may need to either sell their properties or get the Apartment Numbers change-up for their properties. Many property owners end up with run-down properties that for one reason or another end up needing help. These owners and private investors are now able to contact either Darcorp or Apartment Numbers directly.
"We have focused a lot on the entertainment side of the show but until this point had not created a 24/7/365 opportunity for people to get hold of us. When someone has an apartment complex that needs help or someone needs to invest there is typically not a lot of time to spare," says Samuel Sadler, CEO of ADHD Creative and elleven marketing group. elleven marketing group is handling the marketing of the show with all the design work being done by ADHD Creative.