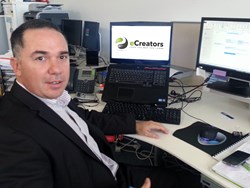 We are absolutely thrilled to become a Certified Moodle Partner.
Perth, Australia (PRWEB) September 12, 2013
Moodle Pty Ltd, the company behind the open source Moodle project, today announced eCreators' formal inclusion in the Moodle Certified Services Provider program.
Becoming a Moodle Partner marks an important milestone for eCreators, a leading Australasian provider of e-learning and Learning Management System development services.
As a Certified Moodle Partner, eCreators, based in Melbourne, will build on its Moodle expertise to offer greater Moodle services to the corporate and education sector in Australia. The specialised eCreators team delivers content development, Moodle training, hosting, plugin development, customised themes, and other services such as Articulate training.
eCreators' flagship product, Learnbook, is an interactive theme that sits on top of a hosted version of Moodle, integrated as an electronic learning solution designed to meet the demands of small to enterprise-scale organisations.
Dean Saunders, Founder and Director of eCreators, said, "We are absolutely thrilled to become a Certified Moodle Partner. Becoming a part of such a successful movement for us pushes us in new directions and enables us to contribute directly to the evolution of the product. We are looking forward to working closer with our existing customers and offering some attractive services to new customers under the Moodle banner."
With the education and training industry expanding rapidly in the region, the partnership is a welcome addition to the Moodle Partners network.
"Part of our philosophy is creating and supporting trustworthy, long-term cooperation with committed partners," said Martin Dougiamas, Founder and CEO of Moodle Pty Ltd. "I'm really glad to see eCreators bringing their Moodle experience to the Partner group, and to have their support in the continued research and development of the Moodle platform."
For more information and to learn more about eCreator's flagship product, Learnbook, visit http://www.eCreators.com.au.
###
About eCreators
Established seven years ago, eCreators is a leading e-learning development and services provider renowned for their expertise in developing content, building and hosting the Moodle product. Based in Melbourne, eCreators work with public and private sector organisations across Australia and New Zealand, as well as select organisations based in other parts of the world. Their clients include NBNCo, BAE, Harris Scarfe, Ausgrid and PepsiCo.
About Moodle
First released in 2001 as a learning management software by Martin Dougiamas, Moodle has since developed into a full feature, flexible open source learning platform currently used in more than 230 countries with more than 70 million users worldwide. The latest version, Moodle 2.5, was released on 14 May 2013. The focus of Moodle is to provide educators with the best tools to manage and promote learning. Supported by a global network of certified Moodle Partners, Moodle HQ continues to work with developers and educators worldwide to support a fast growing community of Moodle users. For more information, please visit http://moodle.org.