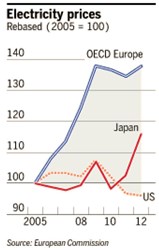 There are people dying, maybe more people die each year [of fuel poverty] than on the roads
Calgary, Alberta, Canada (PRWEB) September 11, 2013
Citing evidence from Global Warming Policy Foundation Director Dr. Benny Peiser's May 15, 2013 presentation in Calgary and a report by Prof. John Hill of the UK, Friends of Science are asking the Redford government of Alberta to reject the Pembina Institute's "Costly Diagnosis" report, now touted by a health coalition as the basis for phasing out coal-fired electricity plants.
Friends of Science rebuttal report entitled "Costly Misinformed Diagnosis" shows that the closure of coal plants in the UK and the move to expensive wind power has led to skyrocketing electricity rates. Millions of people have been pushed into 'heat-or-eat' fuel poverty, fraught with health impacts and thousands of deaths.
Prof. John Hill of the UK is quoted as saying: "There are people dying, maybe more people die each year [of fuel poverty] than on the roads." His report, entitled "Fuel Poverty: The Problem and its Measurement" details how fuel poverty leads to a myriad of health and social impacts, and thousands of premature deaths.
Dr. Peiser's video and power point presentation "To Heat or Eat: Europe's Climate Policy Fiasco" illustrates how wind farm energy and extreme climate change targets have devastated the EU poor and middle class. He reported that Germany is building coal plants. This March 21, 2007 report says 26 new coal plants were slated to provide inexpensive, reliable power.
"We are particularly concerned about the misrepresentations about coal plants and health impacts in the Pembina Institute report," says Ken Gregory, director of Friends of Science.
Friends of Science found that certain facts concerning coal-fired plants were misrepresented in a negative light by the Pembina Institute. Pembina claimed coal-fired plants contributed 6% of all man-made particulate matter (PM 2.5) in Alberta. In fact, coal-fired plants only contribute 0.4% of man-made PM 2.5 in Alberta during 2011.
Prof. Ross McKitrick, a world renowned economist evaluated the Pembina claims against Environment Canada data. Pembina Institute omitted 369,500 tonnes of the man-made particulate emissions from their calculations.
In fact, the total man-made PM2.5 emissions in 2011 were 400,600 tonnes. Coal's contribution was negligible.
Pembina Institute modelled a number of annual deaths allegedly from coal. Ross McKitrick disputes their figures: "I find this implausible, to say the least."
Pembina Institute is closely associated with TIDES Canada Initiatives which is pushing a "Clean Energy Accord." Pembina's annual report notes that it has received financial support from BluEarth Renewables which is involved in wind farm development.
"These would appear to be conflicts of interest," says Gregory.
Alberta's coal-fired power plants use advanced technologies and emissions management.
"Pembina's demand for early closure of coal-fired electricity plants are said to help save the planet from global warming. Global warming stopped 16 years ago," says Gregory. "However, global cooling may be imminent based on solar patterns. If so, we'll need reliable, inexpensive power from coal."
"Costly Misinformed Diagnosis" is posted on Friends of Science website.
About the Friends of Science
Friends of Science have spent a decade reviewing a broad spectrum of literature on climate change and have concluded the sun is the main driver of climate change, not carbon dioxide (CO2). The core group of the Friends of Science is made up of retired earth and atmospheric scientists. Membership is open to the public.
Contact:
Friends of Science Society
P.O.Box 23167, Connaught P.O.
Calgary, Alberta
Canada T2S 3B1
Toll-free Telephone: 1-888-789-9597
Web: friendsofscience.org
E-mail: contact(at)friendsofscience(dot)org