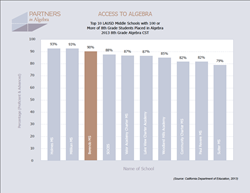 Whatever we were doing wasn't working, so we decided to try something different.
Los Angeles, California (PRWEB) September 17, 2013
A middle school math teacher with the Los Angeles Unified School District has achieved what many thought to be impossible – 100% proficiency in 8th grade Algebra – with low-income students on the state standardized test, symbolizing that regardless of race or economic background, all children can achieve.
Yoon Kahm, a math teacher with the district for 17 years who teaches at Berendo Middle School, located in downtown Los Angeles, achieved this milestone with four classes of 8th grade Algebra. Her proficiency has helped make Berendo the third best middle school in the district for 8th grade Algebra (when testing over 100 students).
"It's a truly astounding achievement," said Mak Family, former math coach at Berendo who first interviewed Kahm on the telephone 15 years ago. He is now a co-founder with Nour Zolfeghari, formerly a coach at Berendo, of Partners in Algebra, an organization that helps traditionally low-performing schools – like Berendo – close the achievement gap in algebra.
"In my 30 years of teaching and coaching math for LAUSD, I have never seen numbers like Ms. Kahm's – never," said Family.
What makes Kahm's accomplishment even more remarkable is that Berendo's attendance area draws from one of the most impoverished neighborhoods in Los Angeles, called Pico-Union, named after an intersection of streets at its core. It is a neighborhood that is densely populated, predominately Latino, with a high concentration of poverty a few blocks from the gleaming skyscrapers of downtown.
When Kahm first heard the news about reaching 100% proficiency, she was not surprised at all. "I was happy. I know how good my students are," said Kahm.
Born in 1947 in Seoul, Korea, Kahm graduated from the Hankuk University of Foreign Studies with a degree in English Language & Literature – not math – and came to the United States in 1972. Shortly after arriving in Los Angeles, she married, and for the next two decades, she dedicated herself to raising her two children, Larry and Christine.
After they left for college in the early 1990s, Kahm began teaching at the elementary level but was encouraged to get her credential in math and move to middle school. She began teaching math at Berendo in 1999. "The school, at the time, was using an incoherent curriculum that the students did not understand," said Kahm.
The students, particularly English Learners, were struggling. The math department, as a whole, was frustrated. No matter what teachers did, they could not change student learning as evidenced on annual test scores released by the state.
Kahm remembers when Family and Zolfeghari decided to reform how math is taught at the middle school level and created a new curriculum. "Whatever we were doing wasn't working, so we decided to try something different," said Zolfeghari.
The reform effort stressed the language of algebra, embedded algebraic concepts beginning in 6th grade, and utilized more frequent assessment to better monitor student progress.
Before the reform effort, the proficiency in algebra at Berendo was a mere 6%. By 2009, the first year that Kahm taught the new Partners in Algebra curriculum, that number jumped to 62% Proficient and Advanced. Five years later, she has now reached the pinnacle of 100% proficiency.
Asked if she's just entering her prime as a master teacher of algebra, Kahm, now in her 60s and always the mathematician, smiled and said, "Age. It's just a number."
About Partners in Algebra:
Partners in Algebra is a Los Angeles-based organization that offers partnerships with a variety of educational institutions: schools, districts, non-profits, and charter management organizations. Since 2011, Partners in Algebra has been dedicated to closing the achievement gap in algebra by ensuring that low-income students, particularly English Learners, get both the access and equitable learning opportunities needed to be successful in K-12 mathematics, with a focus on algebra. For more information, please visit our website at http://www.partnersinalgebra.com or call (310) 562-7721.