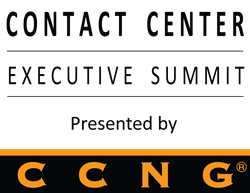 This year, our presenters bring deep perspectives on Customer Experience Management to share...
Fort Worth, Texas (PRWEB) September 11, 2013
Today, CCNG International Inc. announced additional industry presenters for their 2013 Contact Center Executive Summit in Arlington, Texas on September 23rd and 24th.
"This year, our presenters bring deep perspectives on Customer Experience Management to share with an impressive group of senior level management attendees from contact center and customer care. This is going to be a fantastic event given the strength in speakers, sponsors and attendees," says David Hadobas, President and CEO of CCNG. "We are so appreciative of our support from this year's sponsors - Avaya, VPI, Pipkins, Aspect, OpenSpan and FurstPerson!"
CCNG highlights three of the members presenting this year from ResponseLearning Corporation, Real Analogics and Aspect Software.
Kathryn Jackson, Associate, ResponseLearning Corporation
Kathryn is an associate of ResponseLearning Corporation and iLearnCC. Kathryn conducted groundbreaking research into such topics as the integration of the internet into call centers, complaint management, and customer value. She has partnered with the American Productivity & Quality Center to study the people, processes, and technology at the forefront of the customer-centric revolution. She assisted in the creation of the Customer Contact Operations Review and the following courses: Optimizing Frontline Employee Performance, Mastering Real-Time Management, Mastering Performance Management, Needs-Focused Leadership, and Building a Strong Management Foundation. Kathryn received the Call Center Pioneer Award from Call Center Magazine and also recognized her as a leader in her field by inducting her into their Hall of Fame. She has been involved in the customer contact industry since 1983 - starting her career as a customer contact representative - and since then has served in multiple management capacities including operations, telecommunications, customer relations, and marketing.
Listen to the recent webcast interview with Kathryn about her presentation content for this event.
Todd Hixson, SVP of Customer Care, Real Analogics
Todd has been in contact center operations / management for 14 years, working for Travelocity and Intuit. He has been an out-sourcer, in-sourcer, and us-sourcer with a belief in efficiencies realized using creative scheduling, performance based "right for me" shift bidding, and pushing limits with optimization that keep an eye on delighted customers and engaged employees. During Todd's career, he has driven back office utilization of work force management practices, multiple channel multi-skill based operations practices, and cross functional understanding via "a day in the life of operations" workshops. He has also been recognized as a pioneer in forecasting practice for social media. He is on multiple global advisory boards and is a frequent industry speaker both in person and via webinar.
Listen to Todd's recent webcast interview about his "industry pioneering" presentation content for this event.
Michael Kropidlowski, Senior Manager Product Marketing, Aspect
Michael brings more than 18 years of experience in the customer service and contact center industries to Aspect. As a senior product marketing manager, Michael contributes directly to company strategy with a view to market trends and product strategy, focusing on enhanced customer service enabled through unified contact strategies and workforce optimization. Joining Aspect in April 1999, Michael brought more than 9 years of customer service, technical, and sales training experience to the company, where he was initially the lead sales and technical channel partner trainer for the company's contact management platform.
Hear from Michael in his recent webcast interview about his perspectives on delivering exceptional customer experiences with next-generation customer contact.
Additionally, this year's Contact Center Executive Summit will have presentation and perspectives from successful executives representing:
o Teleflora
o McKesson Patient Relationship Solutions
o Allstate Insurance
o Cedars-Sinai Medical Center
o New York Life Insurance
o Kohl's Department Stores
o Think Finance
o Sutherland Global Services
o Augsberg Fortress
o DigiCert Inc.
o VSP Vision Care
o ACE Global
"The CCNG Executive Summit offers senior leaders in Contact Centers of every vertical an opportunity to have real-life discussions about strategy and challenges we are all facing in today's marketplace. As both a speaker and attendee, it is imperative to stay on top of, if not ahead, the opportunities for Contact Centers now and in the future - The executive Summit is the perfect forum for this!" Eileen J. May, Senior Vice President Operations, Publicis Touchpoint Solutions, Inc.
"The Contact Center Executive Summit is a "must-attend" event for anyone who manages a contact center. This two-day event contains valuable information on new call center processes and technologies as well as Best Practices sharing from successful Contact Center leaders. Each year that I attend, I return to my center recharged and revitalized with new ideas and plenty of inspiration!"- Candace Kothmann, Director Contact Center Operations, Texas Workforce Commission
For details on how to attend or present in future CCNG executive or mid-level management events, contact Michelle Porterfield, mporterfield(at)CCNG(dot)com.
CCNG International Inc.
Founded in 1992, CCNG is a member Professional Peer Network (PPN) for contact center and customer care executives, management and leaders. Our mission is to connect colleagues throughout the industry and spread success. The CCNG Network members share best practice insights and experience with peers from top contact center organizations throughout the industry.
Benefits of Joining the CCNG Network:
o Build and expand your network of valuable professional relationships with contact center leaders and award-winning organizations throughout the industry.
o Leverage the knowledge of an industry-wide network of experts and peers.
o Showcase top performing people and programs to build industry recognition and support operational excellence within your organization.
o Explore new ideas. Build more effective programs, raise performance, and reduce risk throughout your organization.
CCNG offers events, programs and resources to all levels of contact center, customer care and customer experience professionals. This is how good contact center organizations continue to get better.
For more information about CCNG, please visit http://www.ccng.com, "Like" us on Facebook and Google+, follow us on Twitter.
# # #