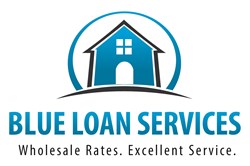 San Diego, CA (PRWEB) September 11, 2013
Blue Loan Services is a full service mortgage company that has been helping residents of California to find the best loan products and home loan rates for many years. The company, headed by the father and son team Robert and Brandon Blue, has been dedicated to serving its customers with honesty, integrity and competence. The Blue Loan Services team of mortgage professionals operates with the goal to provide home loans to its clients while providing them with the lowest interest rates and closing costs possible. The company also offers advice to borrowers on what to make of current mortgage news. Now, as mortgage rates decrease in CA and more home loan borrowers are wondering if this will be a continuing trend or if this is just a temporary rally, Blue Loan Services seeks to give a clear overview of the situation and advise California home buyers and owners on how to proceed with their home purchase or refinance plans.
The decrease in California mortgage rates is definitely a good thing for home owners and buyers as it means that they will be able to save on their home finance or refinance loans, if they had been planning to take out either of the two soon. However, the question is whether or not the slightly lower rates will last. Blue Loan Services points out that these low rates are wonderful, due to the volatility being experienced in today's mortgage market, it would be dangerous for home loan borrowers to expect that they will continue to remain at this rate, or even have the very optimistic view that rates will continue to go down.
Home loan borrowers will have to look at the broader picture and take into account expectations for the upcoming Fed meeting that will very likely result in a decision on when the Federal Reserve will start cutting back on its bonds buying program, which had been keeping interest rates at record lows up until June when word got out about the proposed tapering of the Fed's spending activities. A report that was released this September 9th on Mortgage News Daily explains:
"Although today was positive for mortgage rates, it was also a slow day for the bond markets (MBS are part of the bond market) that underlie them. Though the level of activity will probably increase a bit tomorrow, there's a similar lack of calendar data to inspire movement. As such, we're simply seeing some of the defensive attitude from Friday afternoon simply relax nominally today. While this could be the beginning of a broader consolidation ahead of next week's important Fed Announcement, we've just had two great days of improvement and continue to face a highly uncertain rate outlook."
So how should mortgage borrowers react to the current dip in rates? Blue Loan Services advises their clients to see it as a great opportunity to lock in lower loan rates while they can. While it is still uncertain how rates will move within the next week before the Fed's meeting, it is very risky to gamble on the chance that they will be any better after the meeting than they are right now. Also, while these lower rates could be here today and gone for good, on the off chance that rates do get better before the borrower closes on the loan, many lenders will allow the borrower to negotiate for the new lower rate. However, the reverse (going back to a previously lower rate that was not locked in) is not possible.
Blue Loan Services can help those who wish to lock in the current rates to find the best possible loans for their situation and work quickly to get approved so that they can avoid higher rates down the line. Their fast online loan application and documentation portal makes it simple for clients to submit their application and keep track of their loan's progress. With a reputation for fast, reliable and courteous service, the company's team of mortgage professionals can be especially useful during this time of rapidly changing mortgage rates.
For more information on how Blue Loan Services can help California home loan borrowers get approved for their home purchase loan or refinance quickly, please visit BlueLoanServices.com or call 1-888-929-BLUE (2583) to speak with an experienced mortgage professional.
CA Dept of Real Estate -- Licensed Broker #01094374 NMLS #938365