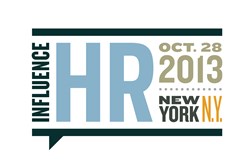 Our sessions are diving into marketing best practices before the rest of the industry has seen them.
New York, NY (PRWEB) September 11, 2013
InfluenceHR New York is a marketing symposium that's taking actionable insight and pushing the concept into practice. With more speakers and sessions that share the secrets of marketing to the HR buyer, attendees can hear from the people who do the job each day — including executives from Achievers, Influitive, JIBE, Apploi, Ceridian, Sherpaa, Workfolio, and HireVue.
"Our attendees want to come to InfluenceHR on Monday and put what they've learned into practice on Tuesday," said LAROCQUE President George LaRocque. "Our sessions are diving into marketing best practices before the rest of the industry has seen them."
The team for InfluenceHR New York has built out the agenda based on requests from CEOs, CMOs, sales VPs, and other customer-facing executives. These topics are top-of-mind for decision-makers in companies looking to rise to the top.
Take a look at some of the sessions:

Entrepreneur Panel — Making the Market Shake Up and Down: Today's market is filled with new innovations and startups that see opportunities to thrive when others say there's no room to grow. Join moderator Suzy Jackson and Charles Pooley from Workfolio, Joe Essenfeld from JIBE, Adam Lewis from Apploi, and Cheryl Swirnow from Sherpaa. They'll discuss how their companies are disrupting the HR technology space with innovative marketing programs and clearly articulated strategies that speak to multiple constituencies — from the traditional HR buyer to venture capital firms.
Land and Expand — How Customer Success Drives Recurring Revenue and Reduces Customer Churn: Selling HR software and hoping customers figure out how to use it is a failed concept. Join HireVue's Chip Luman as he shares insight into how to use a shared customer success plan to cement relationships, gain commitment from buyers, and extend future sales opportunities.
Marketing Panel — Continuing the Discussion: The Importance of Customer Advocacy in the HCM Market: Nothing beats the power of positive word-of-mouth marketing, especially in a people-focused market like HCM. Through their social endorsements, referrals, and positive references, fans and admirers have an enormous impact on brand perception, demand creation, and revenue acceleration. Reputation Capital Media Service's Mary Ellen Slayter will be hosting a panel with Influitive's Mark Organ, Achievers' Rob Catalano, and Ceridian's Carlos Gonzalez as they examine the power of customer advocacy in the HCM market.
"Marketing leaders have to change their strategies on a dime," said LaRocque, "and our attendees will see how quickly today's innovative companies have transformed their own approaches."
Here's what attendees need to know:
InfluenceHR Conference
Oct. 28, 2013
New York City
Conference Website
Conference Location:
Convene Conference Center
32 Old Slip
New York, NY 10005
About LAROCQUE
LAROCQUE is the leading strategy and go-to-market consulting firm for HR-related technology and the human capital management (HCM) marketplace. Services are offered in a unique Service-on-Demand approach, as well as by project or retainer. LAROCQUE publishes the #hrwins list of HR Companies To Watch annually, celebrating the innovation taking place in the HCM and HR tech markets by vendors of all sizes.