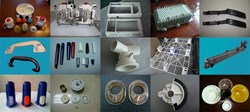 (PRWEB) September 11, 2013
Wuxi Glory Plastics is a leading plastic injection molding company that maintains close relationships with all its customers worldwide. Recently, the business launched its new designs of plastic caps and plastic closures, and announced a special offer on these products.
"In our plastic product catalog, you can find a wide variety of plastic caps and plastic closures in many colors and sizes. Please visit our website now, and scan down the page or use our product search to find what you need. Now, the promotion translates into hundreds or thousands of dollars for you," says the CEO of the company.
He adds, "Our plastic cap mold is designed with 3D computer drawing, so that the product yield rate is enhanced. Furthermore, the cap mold is designed with advanced second-level taper positioning technology and slide-type independent self-locking, hence the concentricity of the product is guaranteed. The plastic cap mold is made of high grade steels from Japan and imported P20 and 2316 steel, etc."
Wuxi Glory Plastics is the China's leading supplier of plastic caps and plastic closures with over 60 years experience. The company stands out from the rest of the market players for its high quality products, like plastic molds, injection molds and plastic injection mold for many years.
Wuxi Glory Plastics was established in the year 1995. It is a China based manufacturer which is an industry leader in the China plastic industry. It is known for its high end services and competitive rates. For more information visit their site address at http://www.plastics-molding.com/.