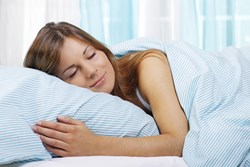 Patients with OSAS should see their GP for diagnosis and investigation. If necessary the GP can refer the patient for treatment.
London (PRWEB UK) 11 September 2013
The term 'sleep disordered breathing' refers to a range of conditions that result in abnormal breathing during sleep, also known as sleep apnoea. Although there are other types of apnoea, the term 'sleep apnoea' usually refers to obstructive sleep apnoea syndrome (OSAS), caused by our muscles relaxing when we are asleep.
In some people, the tongue and the relaxed muscles in the throat can cause a narrowing of the airway, which restricts breathing and can stop it temporarily. If this happens, the brain causes brief partial awakening, which reopens the airway and restarts breathing.
Repeated awakenings in the night can seriously affect the quality of sleep, leading to excessive daytime sleepiness. Snoring is universal in people with OSAS. The noise of snoring arises from vibration of the tissues in the throat, implying that the airway is potentially unstable and therefore more vulnerable to collapse during sleep. However, only a minority of snorers have OSAS. 1
Researchers in Taiwan recently announced that people with the condition sleep apnoea, which causes loud snoring, are almost twice as likely to develop the eye disorder glaucoma.
Taiwanese scientists analysed data from 1,000 patients with sleep apnoea and 6,000 without it. Sufferers were 1.67 times more likely to develop glaucoma - where increased pressure within the eyeball causes gradual loss of sight. Researchers believe sleep apnoea may reduce the amount of oxygen getting to the eye, increasing the risk of glaucoma, but say more research is needed. 2
Paying attention to your snoring habit could lead doctors to order tests sooner and help you get earlier diagnosis and treatment of heart or brain disease. Habitual snorers can be at risk for serious health problems. These problems show themselves as long interruptions of breathing, exceeding 10 seconds, during sleep caused by partial or total obstruction or blockage of the airway.
This leads to frequent waking from sleep, even though you may not realise it, which in turn causes drowsiness during the day and can interfere with your quality of life. People with obstructive sleep apnoea sleep lightly to try to keep their throat muscles tense enough to maintain airflow. This prolonged suffering often results in higher blood pressure and may cause enlargement of the heart, with higher risks of heart attack and stroke.
New research conducted by otolaryngologists at Henry Ford Hospital in Detroit showed that snoring was a bigger risk factor for stroke and heart attack than smoking, being overweight, or high cholesterol.
Some suggested that the damage could be due to the trauma and inflammation caused by the vibrations of snoring. However, previous research on the connection between sleep disturbances, also known as apnoea, and artery disease has found that the arterial damage comes first, lowering the amount of oxygen in the blood, leading to breathing interruptions. Snoring has also been linked to hardening of the arteries around the heart, which can lead to heart attacks.
Overall, this study confirms and further defines the relationship between obstructive sleep apnoea and heart attack. However, because of the small numbers of patients and the way that they were selected for the study, it was not possible to be completely confident that the strength of the association approached a six-fold increase in risk. 3
ChemistDirect's Superintendent Pharmacist Omar El-Gohary states: "Anyone suffering from OSAS is advised to reduce their weight and alcohol consumption. Sleeping tablets and sedatives can further narrow the airways and worsen snoring and obstructive sleep apnoea and so should be avoided. Sufferers are also advised to avoid sleeping on their backs as this tends to worsen symptoms".
El-Gohary adds: "Nasal tapes are available designed to relieve nasal obstruction, and devices available that when placed in a sufferers mouth help reduce snoring generated from the base of their tongue".
"Patients with OSAS should see their GP for diagnosis and investigation. If necessary the GP can refer the patient for treatment using continuous positive airway pressure (CPAP) machines, or corrective surgery in the soft palate or nose to reduce airway narrowing".
References:
1) http://www.europeanlung.org/en/lung-disease-and-information/lung-diseases/sleep-disordered-breathing
2) http://www.dailymail.co.uk/health/article-2416228/How-vibrations-snoring-block-arteries--And-health-problems-VERY-surprising-effects.html
3) http://www.sciencedaily.com/releases/2013/01/130124122741.htm