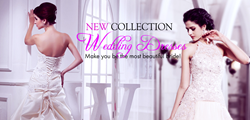 (PRWEB) September 11, 2013
Recently, FairyIn.com, a reputed company of wedding dresses and other special-occasion dresses, has announced its multi-lingual platform to serve its dress customers around the world.
The multi-lingual platform comes in English, French, German, Spanish, and Portugese. The company specially employed several staff who are either natives or have completed their higher education from the universities of France, Germany and so on. Thus, the company can offer customized help to more customers from different countries.
The CEO of FairyIn.com says, "The multi-lingual platform allows us to serve the clients better, and our customers come from all over the world. Now, the updated website can let us respond directly to the online visitors and offer immediate technical assistance."
Tina, a customer from France, said, "I am an old customer of FairyIn.com, and I am glad to hear that news! My English is poor, and I always get some trouble when placing an order. Now, I can buy my favorite dresses in a French website, and everything becomes very simple! Thanks a lot!"
In addition to the multi-lingual website, FairyIn has recently launched a site-wide promotion of women's dresses, including all its wedding dresses, prom dresses, evening dresses, cocktail dresses and more.
About FairyIn.com
Founded in 2008, FairyIn.com is a leading online store that offers wedding dresses, and other special-occasion dresses. The store has a group of designers who create elegant designs for customers all over the world. To find more information about Fairyin wedding dresses, please find them at:
FACEBOOK: http://www.facebook.com/fairyin
TWITTER: http://twitter.com/fairyin