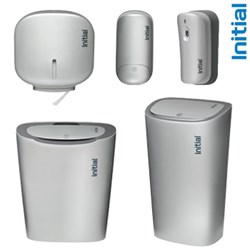 Good hygiene can improve employee morale, productivity and profits. It can delight customers and improve reputation. Equally, poor hygiene can destroy reputations and profits.
Cape Town, South Africa (PRWEB UK) 13 September 2013
The newly launched Signature Range comprises of 12 stylish hygiene products (available in white and silver) with an integral antibacterial finish to help raise hygiene standards. This in turn can improve business performance for all types of organisations from offices and manufacturers, to hotels and restaurants.
"Good hygiene can improve employee morale, productivity and profits. It can delight customers and improve reputation. Equally, poor hygiene can destroy reputations and profits," said David Lewis, MD of Rentokil Initial in South Africa.
Initial has specifically trained a team of Hygiene Experts, located across South Africa, to better understand the different hygiene services needs of different types of organisations. They are equipped with new diagnostics and swab testing tools – similar to those seen on the popular television programme, CSI - to evaluate the hygiene 'hotspots' around a building, including bathrooms, kitchens and office areas. Initial recently carried out swab testing of handbags to demonstrate its effectiveness and found that handbags were less hygienic than toilet seats*.
As part of a major investment in hygiene innovation, the Signature hygiene product range has been extensively developed, designed and tested. The whole project required more than 4,500 man days and the units have been tested for long-term reliability and robustness. For example, the Air Freshener Spray was tested for 1.5 million operations and the Soap Dispenser for almost a million operations.
Signature's bathroom hygiene range feature antibacterial ions embedded within the plastic and painted coatings to provide hygienic protection on key touchable surfaces, whilst also incorporating surfaces specifically designed to be smooth making it easier for dirt, debris and bacteria to be cleaned and removed from the surfaces. Antibacterial properties have been evaluated to meet global standards for antibacterial plastics.
The new Signature bathroom hygiene range includes feminine hygiene sanitary bins with no-touch lids which can have up to 20 times less bacteria on the surface, helping reduce the risk of cross contamination across different bathroom surfaces. This product range also includes hand hygiene units with paper towel dispensers, soap dispensers and hand sanitisers. Other hygiene products in this bathroom hygiene range includes waste bins and air freshener units.
"I'm certain that those organisations with better hygiene demonstrate better business results. We want to help organisations to understand the link between organisational hygiene, employee motivation and wellbeing, productivity, and business success," concluded David Lewis.
About Initial Hygiene Services:
Initial Hygiene is one of the leading hygiene solutions companies in South Africa. It provides innovative and environmentally responsible bathroom hygiene services solutions to large and small organisations across a range of business sectors including public administrations and schools, food and drink manufacturing, hospitality and leisure, medical and paramedical, construction, retail, services and transportation.
The range of Initial's Bathroom Hygiene services and supplies includes:
•Hand washing and hand drying products and services
•Feminine hygiene sanitary bins and sanitary ware disposal services
•Bathroom hygiene products which include urinal, toilet hygiene and deep cleaning services
For a more information Initial's services, or to arrange for a free hygiene services survey of your business, contact Rentokil Initial on 0800 77 77 88 or visit their website.
About Rentokil-Initial: The Rentokil Initial group specialise in pest control, hygiene services and interior landscaping for businesses across the globe. Using leading-edge, environmentally-friendly technology, their experts deliver a wide range of tailored services to businesses of all kinds. Rentokil Initial South Africa has operations in all major business centres across the country.
*Handbag swab test survey
In total, Initial found that one in five handbag handles was home to levels of bacteria-related contamination which pose a possible risk of cross-contamination, while the single dirtiest handle swabbed housed almost three times this level. The dirtiest item in a handbag was found to be face or hand cream, which were found to be less hygienic than the average toilet seat, closely followed by lipstick and mascara.
Swab testing and measurement of handbag hygiene was carried out using ATP bioluminescence equipment in on 20/03/12. 100 surfaces and items from 25 different handbags were tested. Data on toilet hygiene is based on testing conducted in offices and other public buildings between May 2011 and March 2012. 28 seats were tested.