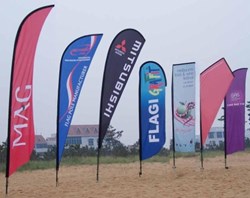 (PRWEB) September 11, 2013
More and more people think that custom flags are the latest and greatest way to promote their businesses. Today, CKFlag.com, a leading quality custom flags provider, announces a special offer in all its car flags.
CKFlag.com has been in the industry for many years, offering a wide range of custom flags like custom Swooper flags, custom advertising flags, custom mini flags and more. According to the CEO of CKFlag.com, the promotion is specially designed for the international market, i.e. all customers around the world can enjoy the wholesale prices, up to 32% off, before Sept. 22, 2013.
"Car flags are becoming increasingly popular, and it is a great idea to boost your business with our custom car flags. Whether you're showing your company' logo with our durable car flags or helping to raise autism awareness, we've got a custom flag designed for you," says the CEO.
He adds, "Our custom flags are manufactured by hand from the top with the image. For each new client-related flag design, our design team engages all the staff on that project in the process. Doing so not only saves time in the end, but guarantees higher quality products for our customers."
About CKFlag
Founded in 1995, CKFlag is a professional flag manufacturer from China, offering a full range of high-quality, low-price flag products and services. Its customers come from 100 countries all over the world. The company helps its customers with its innovative designs to meet end users' expectations for success in any market.
For more information, please visit: http://www.ckflag.com/cheap-custom-car-flags-wholesale/