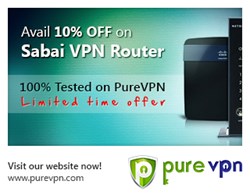 Hong Kong (PRWEB UK) 12 September 2013
The two top-players of the VPN and networking world, PureVPN and Sabai, have decided to team up. The new affiliation will result in product compatibility to offer enhanced internet security along with convenient networking for personal and professional use.
To celebrate this affiliation, Sabai brings an exciting 10% exclusive discount offer on a selective range of routers only for PureVPN users along with free Shipping, three months free router support and 90 day satisfaction guarantee.
Sabai has recently launched OSv5, a VPN router that expands compatibility by employing OpenVPN data tunneling protocol. By utilizing the new OSv5, Sabai routers offer advanced features like dual gateway that allows users to easily establish wired or wireless connections with their Laptop, Desktop, Smartphone, Game Console or Smart TV, simultaneously.
As President and Founder, William Haynes said, "A Sabai VPN Router adds to the flexibility and increases the kinds of devices that a VPN service can be used for. Smart devices such as televisions or media streamers don't have a native client for VPN connectivity. That is where the Sabai VPN Router comes in."
The 10% discount being offered to PureVPN users on the purchase of Sabai routers only makes the decision-making process easier, and in favor of Sabai products. After all, who wouldn't want world-class VPN and Router services together while paying 10% less.
According to C.E.O of PureVPN, Uzair Gadit, "PureVPN is a symbol of privacy and security. The affiliation between PureVPN and Sabai Technology will usher in a new era in internet safety and networking convenience."
About PureVPN:
PureVPN is one of the best VPN service providers in the market. Established in 2007, PureVPN features a self-managed and highly optimized gigabit network spread across 25 geographic locations with presence in all 6 inhabited continents. PureVPN serves a satisfied customer base in 150+ countries and is quickly growing to take the top spot in the VPN industry.