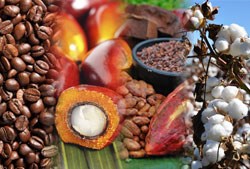 Accra, Ghana (PRWEB UK) 11 September 2013
IRN, global summit organiser is proud to bring you the 'Risks in Agriculture: Emerging Markets 2013 Summit' which will take place 26-27 November in Accra, Ghana. The focus will be on agriculture in Africa with a specific emphasis on West Africa's cocoa, coffee, cotton, palm oil and rubber industries.
With the support from the Ministry of Food & Agriculture of Ghana, Ministry of Agriculture, Food Security & Forestry of Sierra Leone , Ministry of Agriculture, Ivory Coast and Ministry of Agriculture & Food Security of Burkina Faso; the RIAEM 2013 Summit is set to be a crucial meeting aimed at the progress and development of Agriculture in West Africa.
Countries such as Ghana, Nigeria, Burkina Faso, Ivory Coast and Liberia; large producers of cocoa, coffee, cotton, rubber and palm oil, have seen tremendous developments in the last few years that has started to transform their businesses and the way they export and deal with buyers. They are eager to establish long-lasting relationships with Europe and the rest of the world to ensure their development continues and is of benefit to the entire population.
However, there are still challenges to overcome around legal frameworks, export capacities, trade infrastructure, and farmers' education. Solutions can only come from increased cooperation with trading houses and manufacturers who are eager to protect their supply in commodities. Securing supply has indeed become a crucial issue affecting all commodities, and supply chain professionals need to ensure commodities are grown in sufficient quantities to sustain the growth of the world population and the shift in consumption in developing countries, as well as know how to manage price volatility, secure transportation operations and reduce the risk of supply disruption.
This senior level summit is specifically designed for Producers, Plantation owners, Commodity trading houses, Transportation companies, Manufacturers and West-African Governmental Officials.
RIAEM 2013 will address the following:

It will facilitate discussions and debate around risk management in agriculture.
From plantation risk, currency and interest rate risks to geopolitical risk and supply chain risk, it will thoroughly examine best practices and specific regional case studies presented by senior-level risk management professionals and agriculture experts from the major plantation and trading companies globally to help all players involved in the supply chain assess where there is room for improvement and where value can be added.
It will also provide room to discuss risk mitigation techniques, including sustainability and customer loyalty schemes with practical examples.
The excellent speakers' line-up includes experts from Olam, Armajaro, ADM Cocoa, and many more. Relevant associations, NGOs and financial institutions will be represented as well to share their vision with the audience.
To register or for further information on the Risks in Agriculture: Emerging Markets Summit, please contact:
Jessica Jonah
jessicaj(at)irn-international(dot)com
+44 (0) 207 111 1615
NOTES TO THE EDITOR
•IRN is a business information group and elite organiser of senior level summits, forums, trainings, publications and high-profile business events which are dedicated in four key portfolios: Oil & Gas, Infrastructure & Construction, Commodity Trading, and Space as the new addition to our extensive portfolio. http://www.irn-international.com.
•For all media and press enquiries please contact Jessica Jonah at JessicaJ(at)irn-international(dot)com