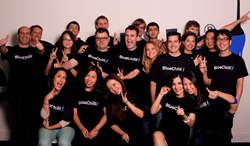 The idea of the fund was to complement the existing model and sits at the end of the BlueChilli process
Sydney, NSW (PRWEB) September 12, 2013
Venture Technology firm BlueChilli is seeking investors to join a new $10 million fund for early-stage start-ups with a technical edge.
The fund has been approved as an Early Stage Venture Capital Limited Partnership by AusIndustry offering angel investors capital gains tax and tax-exempt status.
The BlueChilli venture fund is designed to offer investors the opportunity to invest into all of BlueChilli's start-up investee companies of which the venture technology firms aims to build 100 start-ups by 2016.
Through the BlueChilli venture fund, Angel investors can also take a stake into one or two of the individual companies. The minimum for an investor is $100,000, delivered at a rate of $20,000 a year over five years.
BlueChilli charges 2 per cent in management fees and 20 per cent in carried interest and has engaged Artesian Venture Partners to manage the fund.
Founder and CEO of BlueChilli Sebastien Eckersley-Maslin said, "The idea of the fund was to complement the existing model and sits at the end of the BlueChilli process. BlueChilli makes the initial investment into a start-up, and provide the skills, tech and resources to enable that founder to go through our education program, launch the business, prove the model and raise angel funding."
PwC Private Clients assisted with the set-up of the BlueChilli fund structure. "PwC Private Clients gave us a truly multi-disciplinary approach - combining their accounting, tax and legal expertise to create an innovative and cutting-edge fund structure."
"By introducing us to industry stakeholders such as Artesian Venture Partners, the PwC Private Clients team has enabled Blue Chilli to support and empower entrepreneurs through the creation of this Fund," Eckersley-Maslin says.