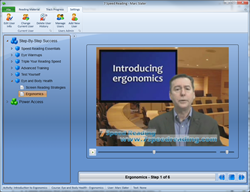 New York City, NY (PRWEB) September 16, 2013
eReflect, the parent company behind 7 Speed Reading™ software, revealed today that people who have mastered speed reading are more likely to have better grades than their counterparts who read at a conventional pace (approximately 175 to 215 words per minute). As a spokesperson noted in the latest briefing from the company, speed reading is not a skill but rather a prerequisite in the demanding and fast-pacing lives that most people lead. Speed reading makes knowledge absorption much more efficient, allowing people to gather extraordinary amounts of new knowledge when they consistently practice speed reading.
Reading faster is especially important for high school and college students. According to eReflect, there are many software products and other utilities that can help people boost their reading speed without sacrificing comprehension. Such products use tried and tested speed reading strategies that have been proven capable of boosting reading speed and comprehension at the same time, making readers truly efficient in acquiring new knowledge. This is a must-have skill for university students who need to take in a lot of new information for various exams and other assessment-related activities, such as essay writing or researching, the spokesperson pointed out.
According to eReflect, subvocalization and regression are two reading habits that prevent people from reading faster. Subvocalization refers to a tendency to pronounce either mentally or verbally the words read on paper, while regression is the tendency to re-read material. Speed reading helps people eliminate these and other counterproductive reading habits, helping them achieve an effective reading pace that can then be their key to achieving improved grades and better overall academic performance.
With efficient speed reading skills, students can not only halve their reading time but also learn how to comprehend and remember more things with less effort - a substantial motivation for students, eReflect's briefing pointed out. The company urges students to seek ways they can eliminate their bad reading habits and adopt newer, more time-efficient and performance-boosting ones, through the elimination of issues like subvocalization and regression.
For more information about the benefits of using 7 Speed Reading, please visit the official website at http://www.7speedreading.com.
About 7 Speed Reading™
7 Speed Reading is the only modern speed reading software that uses the latest technology to produce superior results.
The software provides its users with a new way to master speed reading that guarantees three times the reading speed along with improved memory and comprehension.
The software is poised as the most comprehensive speed reading system anywhere. It contains seven learning strategies, fifteen software activities, video training, advanced tracking capabilities and many more exciting features.