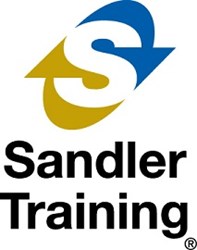 We work with companies of all sizes with a myriad of sales issues but I always ask business owners and executives to implement these 3 simple tips before spending a dime with our firm
Lone Tree, CO (PRWEB) September 12, 2013
Closing more sales, generating more leads, and selling more profitably are high on most companies priority list. According to Chuck Terry, the President and CEO of sales training experts Sandler Training there are many avenues to increasing profitable growth but 3 simple tips that any company can easily implement.
"We work with companies of all sizes with a myriad of sales issues but I always ask business owners and executives to implement these 3 simple tips before spending a dime with our firm" states Mr. Terry.
1. Make Sure You Are Chasing The Right Targets- Often times companies have strayed from their core competency and are diverting attention to new, non-core products or services that take the focus away from what they are best at. A simple refocusing of the sales team may be all that is required to jump start sales.
2. Make Sure Your Sales Compensation Plan Is Aligned with Your Goals- Sales people will do exactly what their compensation plan incents them to do. For example companies often employ a compensation plan that only incents top line growth while aligning the sales efforts with selling more profitably. Companies should make sure they are compensating for the behaviors that drive the desired results.
3. Maximize Referrals- It has become more difficult than ever to attract new customers through traditional methods. A formal process of asking for referrals at every point of interaction can be a simple yet powerful way to increase sales. Companies that passively wait for raving fans to refer them are missing as much as 80% of the potential referral revenue.
Sandler Training offers consulting, benchmarking, coaching, and training services which can help firms maximize growth. Sandler Training in Lone Tree Colorado can be reached at 303-734-7161 or on the web.
Founded in 1967, Sandler Training serves businesses of all sizes with short- and long-term developmental programs that offer continuous coaching, reinforcement and support for sales professionals. This novel philosophy of "reinforcement training" was developed by David Sandler, considered one of the most innovative sales trainers in America.
Programs include on-site corporate training as well as general training that brings together business owners, managers and salespeople from a variety of industries at a central site. The curriculum combines instruction in gut-level selling and other fresh strategies for controlling a sale with strong emphasis on the psychology of selling.