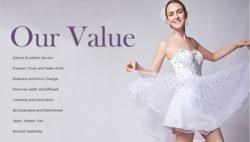 (PRWEB) September 11, 2013
MagicHomecomingDress, a website dedicated to offering visitors a wide range of homecoming dresses, has recently introduced its new collection of 2014 homecoming dresses, and announced a special deal on these dresses (http://www.magichomecomingdress.com/2014-New-Homecoming-Dresses). According to the CEO of MagicHomecomingDress, the promotion will end on Sept 30, 2013.
The website of MagicHomecomingDress.com has been updated to include the new designs, the specifications and prices. The updated website also includes various different clothing fashions, ensuring that customers with all styles can find the styles that suit their needs.
"We are excited to launch the promotion. A number of the websites are selling similar items. However, at MagicHomecomingDress, all the materials we use are of top quality, and women don't need to pay thousands of dollars to look elegant. We are connecting the customers worldwide with our top designers, who make the products stand out on store shelves and online," says, the CEO.
MagicHomecomingDress offers its clients 24/7 customer service; when people compare the different clothing from different stores, they will have a clear idea about the brand of MagicHomecomingDress, that allows a customer to customize the size, color, and others. Custom service is 100% free for everyone.
About MagicHomecomingDress
MagicHomecomingDress is devoted to the manufacture and retail of all kinds of women's dresses, and aims to provide one stop shopping for all customers. The company is a forward-thinking firm, and its goal is to make women feel confident, sexy, and contemporary. For the latest designs and fashion infirmation, please visit http://www.magichomecomingdress.com