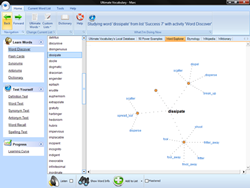 The broad scope and continuously evolving generation of new knowledge requires that people are equipped with efficient, reliable and result-oriented learning tools.
New York City, NY (PRWEB) September 14, 2013
The parent company of Ultimate Vocabulary™ software, eReflect, has teamed up with StudyGs.net, a pioneer in providing a variety of approaches to learning and studying to its online users. eReflect, excited about this new collaboration, revealed today the aspects this deal is bringing to the foreground. As a persistent proponent of efficient, time-effective learning, eReflect endorses the contribution StudyGs.net makes to the wider Internet community, by offering state-of-the-art, tested and proven insights on the best learning approaches and studying methods.
The broad scope and continuously evolving generation of new knowledge requires that people are equipped with efficient, reliable and result-oriented learning tools. The sheer size of the information resources is daunting, which makes it even more imperative for individuals to adopt the most effective studying techniques available.
Fortunately, learning is a skill that can itself be learned; aspects of learning can be improved or replaced with more efficient approaches so that knowledge is more easily processed and understood. That's the main goal of StudyGs.net, as a representative from eReflect reported today in a short announcement revealing this collaboration.
eReflect emphasized that this new collaboration seeks to underline the fact that good studying and learning skills really are key for anyone interested in self-education. From vocabulary building to better knowledge retention, the study guide website features a comprehensive list of learning methodologies and techniques people can adopt to improve their learning capacity on any topic.
Mentioning the ever-increasing number of visitors the website welcomes every day, eReflect noted that even the most proficient learners can benefit from browsing through StudyGs.net.
One of the most comprehensive and painstakingly complete online portal on studying, the website covers lesser known aspects of studying such as how to optimize learning for athletes and how to implement the A.S.P.I.R.E system within a learning context. It even features classroom-specific material teachers can use to improve their students' skills in critical thinking, self-expression, vocabulary, and much more. eReflect concluded today's statement by saying that this new partnership will make more Internet users aware of efficient studying and learning techniques which they can use to improve their knowledge and boost their education.
For more information on how you can benefit from Ultimate Vocabulary, please visit its official website, http://www.ultimatevocabulary.com.
About Ultimate Vocabulary™
Ultimate Vocabulary provides a proven and powerful platform, built to improve anyone's vocabulary.
The interactive self-improvement system provides more learning tools than any other program on the market, as well as more information on words.
The Ultimate Vocabulary software provides each and every user with a personal computer tutor. Providing a step-by-step guide to learning a powerful vocabulary, Ultimate Vocabulary is the learning tool everyone can benefit from.
Of course, the software is also backed by eReflect's iron-clad money back guarantee.