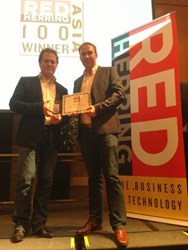 It is fantastic to have been recognized by Red Herring. We are looking forward to continued growth in the region with an eye on expansion into Northeast Asia.
(PRWEB) September 12, 2013
The demand for enterprise mobility solutions is exploding and Tigerspike's technology platform, Phoenix, licensed by Fortune 1000 companies all over the world, caters to deliver outstanding experiences on mobile and tablet devices, future-proofing solutions in this rapidly changing space.
"Choosing the companies with the strongest potential was by no means a small feat," said Alex Vieux, publisher and CEO of Red Herring. "After rigorous contemplation and discussion, we narrowed our list down from hundreds of candidates from across Asia to the Top 100 Winners. We believe Tigerspike embodies the vision, drive and innovation that define a successful entrepreneurial venture. Tigerspike should be proud of its accomplishment, as the competition was the strongest it has ever been."
Luke Janssen, Group CEO adds, "It is fantastic to have been recognized by Red Herring. It was a great experience to attend the conference and meet likeminded CEO's and VC's from across Asia. We look forward to the global event in California in November."
The recognition follows Tigerspike's continued expansion in Asia with Alex Burke's promotion to CEO, Asia, and Matt McCauley's promotion to General Manager, Singapore. The recent expansion of the Asia Pacific team will continue to drive superior delivery, user experience and innovation in the region.
"Asia's rapid expansion will continue and accelerate with Alex's new CEO remit. He has built a great platform for growth in the region and we are already exceeding our stretch revenue and operating margin targets for the quarter," added Janssen. "Those are great results from the team in Asia and Alex has lead that growth while maintaining our great culture for over 100 people across Sydney, Singapore, and Melbourne. We are looking forward to continued growth in the region with an eye on expansion into Northeast Asia."
Red Herring's editorial staff evaluated the companies on both quantitative and qualitative criteria, such as financial performance, technology innovation, management quality, strategy, and market penetration. This assessment of potential is complemented by a review of the track record and standing of startups relative to their peers, allowing Red Herring to see past the "buzz" and make the list a valuable instrument of discovery and advocacy for the most promising new business models in Asia.
About Tigerspike
Tigerspike is a global Personal Media technology company.
We believe that Personal Media has the power to transform the way we live and work. Delivering large scale enterprise solutions across mobile, tablet and other personal media platforms, we enable our clients to form closer relationships with their key stakeholders, and implement working practices that support happier more productive workforces.
Our Kallide methodology enables us to produce consistently outstanding user experiences by enabling our software engineers to work in parallel with our user experience design teams.
Our mobile service delivery platform, Phoenix, combined with our enterprise grade engineering skills provides seamless integration between our front end products and solutions and your back end business processes, content and information.
Tigerspike's clients include American Express, Westfield, Standard Chartered, The Economist, News Corporation, Shell, Merck, Suncorp, Woolworths and Vodafone. From 2003 Tigerspike has been transforming businesses from our offices in San Francisco, New York, London, Dubai, Singapore, Sydney and Melbourne by unlocking the power of Personal Media. We have been in the Deloitte fast 50 for 6 years running and are in the Forbes top 100 companies to watch.