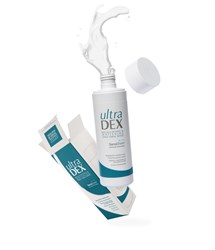 "A highly novel, unique and innovative product."
London, UK (PRWEB UK) 13 September 2013
Periproducts revolutionises the oral care category with the launch of its ground breaking new UltraDEX Recalcifying & Whitening Daily Oral Rinse. For the very first time it combines two powerful technologies, which together whiten and recalcify teeth, eliminate bad breath and destroy harmful bacteria. The new product from the performance oral care range joins the already popular Recalcifying & Whitening Toothpaste and has been hailed as a "super mouthwash" by one of the UK's leading cosmetic dentists. 9 out of 10 consumers with sensitive teeth who tried it, liked it and would buy it (Independent Consumer Research Study 111 participants with sensitive teeth).
Incorporating the latest ingredients and clinically proven technologies (SensiShield® and iQ+ ActiveOxi Technology™), the alcohol-free UltraDEX Recalcifying & Whitening Daily Oral Rinse has been developed especially for sensitive teeth in conjunction with Barts and The London School of Medicine and Dentistry, Queen Mary University London. With over thirty years of combined experience in the field of prevention, sensitivity and remineralisation, Professor Robert Hill and Dr. David Gillam described the UltraDEX Recalcifying & Whitening Daily Oral Rinse as "a highly novel, unique and innovative product".
Daily wear and tear can cause hundreds of tiny flaws to develop in tooth enamel, which attract plaque and bacteria. Over time, this can lead to more serious damage such as tooth decay and sensitivity. SensiShield® technology (with hydroxyapatite – the key natural building block of teeth) provides a strong and protective enamel shield, fills in microscopic enamel cracks and recalcifies tooth surfaces, leaving teeth smoother, brighter, less likely to stain and more resistant to acidic food and drink.
Using the same iQ+ ActiveOxi Technology™ as found in the UltraDEX award-winning Performance Oral Care range, the product also gently oxidises organic stains such as tea, coffee, tobacco and red wine and provides 12 hours lasting fresh breath confidence by working with the natural oral pH to instantly eliminate odour-causing compounds on contact. The iQ+ ActiveOxi Technology also helps remove plaque to optimise teeth for the recalcifying and whitening process – with all ingredients working together to achieve the best possible results.
Ashish B. Parmar of Smile Design by Ash, said: "This product is the best mouthwash for people with sensitive teeth, due to its unique formulation and it also provides a host of other clinical benefits. Most products focus on just one area – sensitivity, whitening, bad breath or antibacterial, to fight gum disease – but the Recalcifying & Whitening Daily Oral Rinse does it all, it's a super mouthwash. Together with the sulphate-free UltraDEX Recalcifying & Whitening Toothpaste it offers the perfect oral care solution for my patients before, during and after their treatments."
UltraDEX Recalcifying & Whitening Daily Oral Rinse is available at Boots and on Amazon (RRP £7.50), to enquire further, please contact: info(at)ultradex(dot)co.uk.
The range has everything needed for a complete performance oral care regime to help achieve a perfect, healthy smile and complete mouth confidence and is approved by the Vegetarian Society, registered with the Vegan Society and has Kosher status.
About Periproducts
Periproducts is a small, British entrepreneurial business with innovation at its heart. "Over the years we have been recognised for our outstanding NPD programme alongside some of the UK's biggest brands, of which we are very proud. 2013 marks our 20th anniversary and so we wanted to reward our loyal supporters and customers, who have helped the brand grow, with an exciting, and innovative new product. The new Recalcifying & Whitening Daily Oral Rinse provides a number of clinically proven benefits, which should encourage consumers to become more active participants in their own oral healthcare."