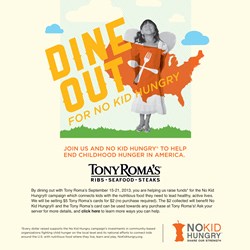 Orlando, FL (PRWEB) September 11, 2013
Romacorp, Inc., parent company for Tony Roma's restaurants, announces participation in Dine Out For No Kid Hungry during the month of September. This year, between Sunday, September 15th thru Saturday, September 21st, Tony Roma's restaurants will sell $5 gift cards for only $2 with no purchase required. Cards can be redeemed at participating locations through March 21, 2014. The dollars raised from selling the gift cards will benefit the No Kid Hungry Campaign. Additionally, Tony Roma's has chosen No Kid Hungry as the beneficiary for funds raised through Round It Up America (RIUA). RIUA allows guests to 'round up' their change to the nearest dollar amount of the check. In three weeks, 8 locations have raised nearly $2,000 through Round It Up America to benefit No Kid Hungry, The Fisherhouse and the Disaster Relief Fund of the American Red Cross.
Share Our Strength and Feeding America collaborate to focus the public's attention in September on hunger in America; Share Our Strength calls the month "No Kid Hungry month" and leads its calls to action with Dine Out For No Kid Hungry and corporate cause marketing efforts. "We are excited to participate in this program in an effort to raise much needed money to help stop childhood hunger in this country! This is the first time that Tony Roma's will be participating in this program and our teams are committed and focused on the cause", commented Monique Yeager, Director of Marketing.
Participating locations include the following markets:

Orlando, FL
Jensen Beach, FL
Miami, FL
Henderson and Summerlin, Las Vegas, NV
Palm Desert, CA
Dubuque, IA
Green Bay, WI
Pacific Beach, CA
Romacorp, Inc., is the parent company of Tony Roma's restaurants, the world's largest casual dining concept specializing in ribs. Romacorp, Inc. has over 150 restaurant locations on six continents and is one of the most globally recognizable names in the industry. The first Tony Roma's restaurant opened more than 40 years ago in North Miami, Florida.
###