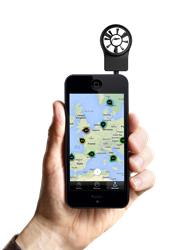 (PRWEB) September 17, 2013
After launching its Wind Meter for iPhone sensor device earlier this summer, the company has now set out to making the weather data contributed by its users available to an even wider audience. As a first step, it has just released a beta version of the crowdsource weather map at http://maps.shakaon.net/.
"Shaka Wind Meter by itself has proven to be a great tool for personal use and we're glad to see that tens of thousands of measurements have already been taken by our users since we started shipping the product only a few weeks back. The product's greatest benefit is the ability to see measurements from other Shaka users in your region simply at the moment they are taken. Shaka will make crowdsource real-time weather data easy to use and access for different local wind communities and with releasing the map we're only touching the surface here," commented Raigo Raamat, CEO and co-founder of Shaka.
"Accurate local wind speed and temperature measurements are important to many, allowing to essentially make better decisions for their everyday activities. Wind- and kitesurfers learn which gear to rig, paragliders learn if it's safe to launch, golf players and hobbyist marksmen can aim their shots better based on real-time conditions. Professionals like HVAC technicians can use the same device indoors for measuring airflow close to ventilation ducts," added Raamat.
Shaka's customers to date are individuals and businesses in more than 40 countries globally, majority of them in the US and Japan, followed by European countries such as the UK, France, the Netherlands, Germany and Denmark.
The company promises a greater variety of personal weather stations as well as mobile and web apps for accessing its data in the future, starting with an Android version due to be released later this year. It is also working on an API which makes its data available for other services and applications.
Shaka is a HAXLR8R 2012 batch company, learn more at http://shakaon.net/.