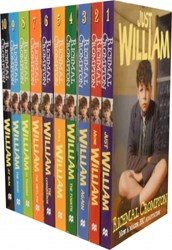 (PRWEB UK) 13 September 2013
Snazal Wholesale Books announces it is now offering the Just William Collection Series consists of popular first ten books. , written by Richmal Crompton, for purchase online. The Just William Collection includes, "Just William," "More William," "William Again," "William-The Fourth," "Still William," "William the Conqueror," "William the Outlaw," "William in Trouble," "William the Good," "William At War." They have been issued with the original line illustrations.
It is a story of a scruffy and frowning boy "William" who is just eleven years old. They have been issued with the original line illustrations.First published in the year 1922. This was the first children short story book, which later was adapted on numerous television series and films. Buy Just William 10 Books Set from Snazal.
Since 2006, Snazal has grown to become a worldwide book distributor, supplying independent bookstores and other small business venues with specially selected, handpicked titles. Snazal offers more than 500,000 books on a variety of topics, ranging from children's interests to history, to the general public and trade communities. To date, this UK-based supplier has worked with prestigious distributors and publishers to serve more than 1 million customers.