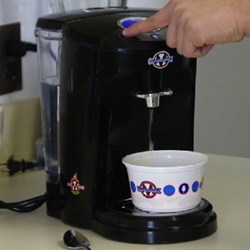 Lawrenceville, New Jersey (PRWEB) September 12, 2013
Kitchen appliances make life simpler, easier and more convenient. The key is finding the right appliance for the right job. A machine that brews coffee can't be adapted to make toast anymore than an espresso maker can be made to boil soup. And even if they could, who'd want to drink chicken soup-flavored coffee or eat coffee-flavored Mac & Cheese? Make room on your counter for a revolutionary new appliance: the Munchbox Appliance from MBX.
Pre-dating the recently announced Campbell's Soup K-Cups for Keurig, the Munchbox Appliance is the first of its kind on the market. The sleek modern countertop machine makes meals and snacks in minutes. Not to be confused with a typical coffeemaker that it so closely resembles, Munchbox is a specially designed appliance that prepares healthy and highly nutritious foods quickly and easily.
Munchbox is designed for use with MBX's large selection of foods and meal programs, which include an array of breakfast, lunch and dinner entrees that are each loaded with nutrients and healthy ingredients including vitamins, vegetables, fruits, fiber, proteins, and essential fatty acids. Just add water into its rear reservoir, push a button, and in just two minutes a hot meal is ready for you to enjoy.
"The future of food is here," says MBX - Munchbox founder and CEO, Chip Marsland, a renowned food technologist, functional nutrition expert and - former President of Zone Foods. "With our specially prepared high-nutrient MBX meals and programs we have taken food to the next level and made it what it's supposed to be — foods with great taste and flavor yet packed with the essential nutrients our bodies need for good health. "
At MBX the mission is simple: Make meals that taste great, are fast & easy to prepare and, most importantly are Better-for-You.
For more information on MBX and the Munchbox appliance or to purchase online, please visit http://www.mbxbody.com.
# # #