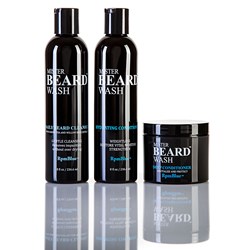 It is our philosophy that every man deserves a brand they can rely on for their most personal needs; one that will be unrelenting in its pursuit of perfection and value in terms of providing every man with the care that they deserve.
Long Island, NY (PRWEB) September 13, 2013
William Griffith, CEO of Mister Beard Wash, is pleased to announce the inclusion of his exclusive line of beard cleaning products Mister Beard Wash at the 2013 Borgnine pre-Emmy gifting party. The exclusive celebrity event will be hosted by producer Nancee Borgnine, daughter of the late Oscar-winning actor, Ernest Borgnine.
"Our company is thrilled to be invited to be part of the Borgnine 2013 pre-Emmy event," said Mr. Griffith. "It is an honor to be featured alongside luxury brands from all over the world. This provides an excellent opportunity for us to showcase our flagship brand Mister Beard Wash, created for those who love their beards."
This unique event provides selected individuals with the opportunity to personally meet and display products to celebrities from all facets of the entertainment industry. The event is expected to host current nominees for the 2013 Emmy Awards in addition to past nominees and winners. Past attendees include: Emmy nominee Joe Mantagena of Criminal Minds, Hector Elizondo, Gage Golightly of Teen Wolf, Julie Bowen, Ashley Argota from Nickelodeon, Emmy Winner Ed Asner, Monica Potter as well as members of the cast of Big Bang Theory, NCIS, Castle, Modern Family, Criminal Minds, Parenthood, The Middle, Burn Notice and Teen Wolf among others.
The key to being selected for this event is quality. "I am always looking for fabulous products to put into the hands of celebrities and at the same time help companies promote themselves with celebrity photos," said Nancee Borgnine.
In addition to showcasing products at the event Mr. Griffith will be presenting pre-Emmy gifts including Mister Beard Wash Beard Conditioner and the Mister Beard Revitalizing Trio.
About Mister Beard Wash:
Mister Beard Wash caters to a growing segment of the population that is seeking grooming and skin care products designed explicitly for men. The Mister Beard Wash product line consists of mild foaming botanical daily beard cleaning products and deep conditioners.
About the Primetime Emmy Awards:
The 65th Primetime Emmy Awards Ceremony will be hosted by Neil Patrick Harris at the Nokia Theatre in Downtown Los Angeles, California on Sunday, September 22, 2013. The awards are presented in recognition of excellence in American primetime television programming by the Academy of Television Arts & Sciences. The Emmys are considered the television equivalent to the Academy Awards for film, Grammy Awards for music, and Tony Awards for stage.
About Nancee Borgnine:
Nancee Borgnine the daughter of late Oscar-winning actor Ernest Borgnine has utilized her extensive background as an entrepreneur and Hollywood insider to produce special events and celebrity-gifting suites that enable companies of all sizes to put their products into the hands of celebrities and industry professionals.