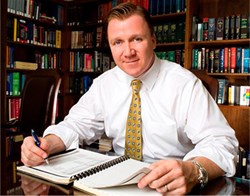 Exclusions, delays, denials and partial denials are a huge problem for homeowners in Florida.
West Palm Beach, Florida (PRWEB) September 26, 2013
Florida is no stranger to strong storms, and the insurance law attorneys at X1Law are intimately familiar with legal issues surrounding these insurance claims. X1Law was founded by a former claims adjuster who understands how insurance companies operate and know how to recover settlements for policyholders who purchased coverage in good faith. Today, X1Law has expanded its practice areas to protect homeowners' rights and help families recover fair insurance settlements. These legal services are now available to homeowners in West Palm Beach and throughout Florida.
Founding partners Patrick and Daniel Tighe are committed to helping policyholders who have suffered due to a claim denial or a company's unjust delay in claims processing. Insurance companies often use broad exclusions, ambiguous language and excessively demanding requirements to prevent homeowners from receiving fair compensation. It's not uncommon for homeowners to receive settlements that cover just 50 percent of their losses. This type of scenario is exactly what X1Law can prevent. Patrick Tighe explained, "Exclusions, delays, denials and partial denials are a huge problem for homeowners in Florida. We have expanded our practice areas to help these disenfranchised homeowners. Our team understands the rules and does everything under the law to ensure that clients recover a fair settlement."
The insurance litigation attorneys at X1Law work directly with policyholders to expose unjust practices and claim denials that constitute bad faith. The firm's experienced attorneys review policy terms and property damage documentation to determine the best course of action for individuals who carry flood insurance or homeowners insurance policies. Property losses related to fire, wind, floods, hail and hurricanes are all handled differently and are subject to different restrictions that make it difficult for policyholders to determine their rights. That's where an insurance litigation attorney can be invaluable.
If a homeowner suffers due to unreasonable delays or an unfair settlement, there is recourse under the law. If there's a way to dispute a claim denial, to apply for a supplemental settlement or to fight an insurance company that acted in bad faith, X1Law will find it and help the client recover a favorable settlement. The experienced attorneys at X1Law work one-on-one with policyholders to determine the scope of coverage, the validity of exclusions and other case-specific criteria that can help win a settlement. Local homeowners are frequently pushed into signing releases before accepting compensation. This is something that X1Law is aiming to prevent by educating policyholders and being an advocate for their rights. Homeowners can visit x1law.com to learn more or request a free consultation.