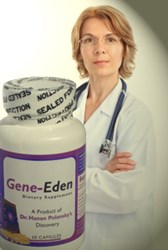 polyDNA recommends Gene-Eden-VIR to those who want to help their immune systems target the latent enterovirus.
Rochester, NY (PRWEB) September 12, 2013
An article published on August 26, 2013 in the Wall Street Journal said that "Summer colds, which can hit between June and October can have more severe, flu-like symptoms, in addition to sneezing and coughing. Many people also mistake a summer cold for allergies, because it just doesn't seem to leave (2)."
Moreover, Ronald Eccles, director of the Common Cold Centre at the University of Cardiff in Wales said, "Moving between the warm outdoors and air-conditioned inside spaces can make people more vulnerable to sickness in summer. The sudden chilling lowers the defenses in the nose and throat by causing constriction of the blood vessels. If a virus is already present, this reduces our immunity (2)."
The public should remember that the symptoms of a summer cold can be intense. A person with a summer cold may have common symptoms such as a stuffy or runny nose, but they may also have a fever, diarrhea and an achy body. In short, they may have flu-like symptoms.
"The enterovirus, which usually causes the summer cold, is spread by people sneezing and coughing and through direct contact with germy surfaces. But summer colds also can be transmitted through fecal contact, which can occur from contaminated bathroom door handles and such (2)."
The enterovirus thrives in places such as schools, public transport systems, game arenas, airports, and on flights. This is because many people gather in these areas.
polyDNA, therefore, recommends Gene-Eden-VIR to those who want to help their immune systems target the latent enterovirus. This antiviral remedy recently went through a post-marketing clinical study in which participants "reported no side effects after taking Gene-Eden-VIR (1)." The study authors wrote that "We observed a statistically significant decrease in the severity, duration, and frequency of (viral) symptoms (2)."
"The key to your health is to reduce the level of the latent viruses in your body to harmless levels." - Dr. Hanan Polansky
To learn more about Gene-Eden-VIR, visit: http://www.gene-eden-kill-virus.com.
###
References:
(1) http://www.scirp.org/journal/PaperInformation.aspx?PaperID=36101
(2) http://online.wsj.com/article/SB10001424127887324906304579036791292528468.html
polyDNA is a biotechnology company that develops dietary supplements using the unique scientific method developed by Dr. Hanan Polansky, which is based on Computer Intuition.
In addition to his unique scientific method, Dr. Polansky published the highly acclaimed scientific discovery, called Microcompetition with Foreign DNA. The discovery explains how foreign DNA fragments, and specifically, DNA of latent viruses, cause most major diseases.
polyDNA developed Gene-Eden-VIR, an antiviral natural remedy that helps the immune system kill latent viruses.