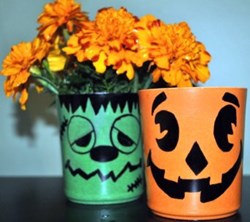 Halloween parties are universal fun for all ages...
Lebanon, NJ (PRWEB) September 17, 2013
Partiestogrow.com has the perfect addition to any Halloween Party plans. Using coupon code SCARE2013, customers can receive $5 off the purchase price of the pk 12 flowering party favors. "Halloween parties are universal fun for all ages. I think this is a great party activity that also doubles as the party favor. Decorate the pot with markers and stickers, put some candy in there if you like, and then send the potting material and seed packets home for a great 'to-go' favor," says Debbie House, owner of Partiestogrow.com. Children can decorate the pots, plant the fresh seeds, and watch the project grow. PartiesToGrow.com has carefully selected kid friendly varieties of seeds which grow quickly.
Halloween is the perfect time to infuse a little fun into a school day also - the thrill of the first few days is over, and the daily routine is in full swing. Whatever the grade in school, there is always something to learn from growing flowers. These kits are fun and easy to use! Kids will love this 'hands on' experience as well as a project that can be personalized and brought home. Eventually the kids can transfer the growing flowers into a garden at home. Also, the project is Earth friendly - the pot is made of bamboo and will break down naturally in a landfill.
PartiesToGrow.com knows that creativity is invaluable when it comes to keeping kids busy. Flower kits are a unique way to keep the creativity flowing, while teaching lifelong lessons about flowers and plants.
About PartiesToGrow.com:
PartiesToGrow.com was started by a "work at home" mom with many hats - mother of 2, softball coach, Girl Scout leader, PTA member - she had an idea she hadn't seen before. PartiesToGrow.com offers an environmentally friendly party favor kit that's packed 12 and comes with pots, fresh seeds, potting material and a carry bag...perfect!