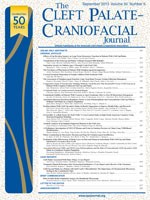 Children who had impairments in speech and eating were more than twice as likely to be at risk for separation anxiety.
Lawrence, KS (PRWEB) September 13, 2013
The Cleft Palate-Craniofacial Journal – A recent study of a population-based sample of children with cleft lip or palate found that one-quarter experienced separation anxiety disorder. While this is a common childhood anxiety disorder, only 3 to 5 percent of the overall U.S. child population is affected. Children with cleft lip or palate can face greater challenges of psychosocial adjustment and may be at a higher risk for separation anxiety disorder.
The study, presented in The Cleft Palate-Craniofacial Journal, surveyed parents of 279 children with oral clefts, ages 4–9, living in Arkansas, Iowa, and New York. The survey contained the Separation Anxiety subscale of the Screen for Child Anxiety-Related Emotional Disorders (SCARED). Parents were also asked about their child's oral cleft, health, family structure, and socioeconomic status.
Oral clefts, affecting the lip, palate, or both, affect about 6,800 children each year in the United States. These children may experience health and psychosocial problems and undergo surgeries, speech and language therapy, orthodontic care, and other treatments throughout childhood. Children with separation anxiety disorder show developmentally inappropriate distress when separated from parents or other attachment figures. Their behavior is recurrent, excessive, and may manifest in physical symptoms, such as headaches, abdominal pain, or panic attacks.
In this study, those with more prevalent cleft-related problems were more likely to experience separation anxiety. Children who had impairments in speech and eating were more than twice as likely to be at risk for separation anxiety. Only 19 percent of those children whose overall health was ranked "excellent" showed risk, while 46 percent of those whose health was "good" or less displayed signs of the disorder. Children who were less than happy with their own facial appearance showed a higher rate of risk—35 percent as opposed to 21 percent of those who were "very happy."
The marital status of the parents also had an effect. Children whose parents were currently married were half as likely to display separation anxiety. The parents' education and health status also had a significant correlation with their child's risk for separation anxiety.
Separation anxiety often goes unrecognized, though it is highly prevalent among preadolescent children. The findings of this study indicate that behavioral health clinicians who work with children with oral clefts should consider screening for separation anxiety. This disorder is very responsive to treatment with family interaction and cognitive-behavioral interventions.
Full text of the article, "Separation Anxiety in Children Ages 4 Through 9 with Oral Clefts," Cleft Palate-Craniofacial Journal, Vol. 50, No. 5, September 2013, is now available.
###
About The Cleft Palate-Craniofacial Journal
The official publication of the American Cleft Palate-Craniofacial Association (ACPA), the Cleft Palate-Craniofacial Journal is a bi-monthly international, interdisciplinary journal on craniofacial anomalies. The journal explores and reports on the study and treatment, including experimental and proven surgical procedures, of cleft lip/palate and craniofacial anomalies. It also keeps readers in touch with the latest research in related laboratory sciences. To learn more about the society, please visit: http://www.acpa-cpf.org/.