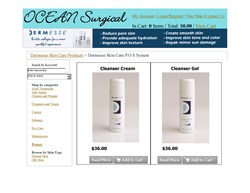 (PRWEB) September 13, 2013
Axia Medical Solutions, the manufacturer of the Dermesse skin care products, recently launched a new website program that allows physicians to take advantage of internet sales and revenue opportunities. Referred to as the POS (Point of Sale) program, it allows patients the ability to purchase products through the physician's website. Axia installs the software that links the physician's website to the Axia Online Shopping Cart, coordinates payments and shipments, and provides monthly reports, all at no cost to the physician. According to James Krulisky the President and CEO, "Internet business represents too big of a market to be overlooked. So, Axia developed this program which provides physicians the ability to offer products for sale to their patients through a secure website, thereby creating another source of revenue."
The Online Shopping Cart package consists of a practice specific customizable "portal," where authorized patients of the practice can securely shop and order Dermesse distributed products and access exclusive promotions. Future planned programs will include gift cards for surgical procedures or other practice services. The shopping portal integrates into the practice's existing website, creating an online information destination that brings value to both the patient and provider. This allows the patient to purchase directly from the internet, under the physician's direction. There are no non-professional websites for Dermesse, only physician approved websites.
"The Dermesse Online Shopping Cart is a unique way for us to extend the patient relationship by providing easy and convenient access to high quality skin care products," said Dr. Robert D. Rehnke, M.D., FACS. "At the same time, it creates a viable revenue stream for our practice without disrupting workflows or diverting resources from other areas."
Inventory, order fulfillment, shipping, and marketing promotional activities are managed entirely by Axia Medical Solutions. This includes professionally designed and produced banner ads on the practice's existing website, lobby signage, displays at the check in/out desk and appointment reminder cards. "The Online Shopping Cart provides our physicians with the power and convenience of the Internet while maintaining the exclusive distribution channel upon which our success is based," said James Krulisky.
Promotional support is provided by Axia Medical in the form of a high-quality integrated online and in-practice marketing campaign. "What is most appealing about the Dermesse Online Shopping Cart is the marketing support, providing our clients with access to Dermesse products without adding to our staff's workload to manage marketing or fulfillment," said Marissa Hervey, Licensed Paramedical Aesthetician and Principal, DayGlo MedSpa.
This program will significantly increase the sales of Dermesse products by physicians without the risk of losing sales to non-physician competitive sites. Other products will be added in the future.
For more information contact Axia Medical Solutions at 866-494-4466 or http://www.dermesse.com