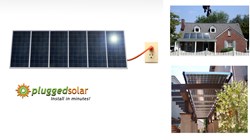 "Finally someone is working on an easy solar system to charge electric vehicles" - spheralsolar
(PRWEB) September 11, 2013
PluggedSolar Kit has a patent pending technology, which is similar to that of the traditional solar grid tie systems installed in buildings across the country. Plugged Solar kit has the high quality solar panels (with 25 years of warranty) and a grid tie inverters (5 years of warranty). These components are the ones as used in any solar installation done by solar licensed contractor. The solar panels and grid tie inverters are manufactured by global mega companies. The key differentiation from the traditional solar power to Plugged solar is the output voltage. The PluggedSolar has an output voltage of 120V AC which makes it plug-n-play as an appliance, the traditional solar installations have 240V AC, which requires a licensed electrician to make the connection.
The PluggedSolar kit has an easier DIY installation mountings for solar panels. All the components of the PluggedSolar are UL approved and so, the utilities and power companies are approving it. As stated by Dept. of Energy, there is 50% of cost saving if solar energy becomes plug-play.
http://energy.gov/articles/going-solar-record-time-plug-and-play-pv
PluggedSolar makes the solar energy affordable and comparable to the conventional Co2 producing power plant electricity.
Some of the key questions from homeowners:
Question: What type of Inverter is used in PluggedSolar?
Answer: PluggedSolar uses Grid Tie Inverters which are UL approved as per requirement of utility and power companies. It is tested and listed with GoSolarCalifornia (Government of California). It has anti-islanding protection with UL-1741 code compliance as per requirement from utilities.
Question: Does the company provide support to get approval from Utilities and Power Companies?
Answer: Yes, Support is provided in the application process and provide the necessary documents.
Question: Is it safe to plug it into wall socket?
Answer: The PluggedSolar system has 1.7KW DC power rating and it generates peak of 1.65KW of 120V AC power. The wall outlet is rated for 1.8KW (120V AC with 15Amp max). So, putting 1.65KW is within the rated limit. It is same like plugging an electric heater or microwave oven.
Question: Will the utility approve PluggedSolar?
Answer:Yes, it will be approved because:

the system components are UL certified.
The Grid Tie Inverter it has the UL 1741 certification required for all utilities.
All the paperwork and necessary documents are provided for the application.
In rare cases, if the system is not approved because of lack of understanding of utility company, an electrician can connect the output wire straight to the house electrical box. Easy steps are provided for connection.
Phone : +1 (281) 712 2757
http://www.pluggedsolar.com/