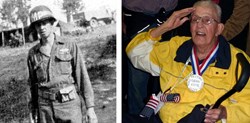 (PRWEB) September 11, 2013
"Ah ha" moments and "epiphany" are the words which Glenn Elste uses to describe his recent Honor Flight experience and World War II experiences.
Glen has taken every opportunity to assimilate into his senior living community since moving to Alexian Village of Milwaukee in 2010. At 90 years old one would expect a person to slow down and enjoy the waning years of life but it is just the opposite for Glenn. When he heard of the "Stars and Stripes Honor Flight," which takes local World War II veterans to Washington, D.C. to see and explore the memorials built in honor to their service and sacrifice, Glenn wasted no time to sign up and prepare.
He navigated through websites, paperwork and questionnaires with the help of staff at his Milwaukee retirement community. His hope was to be accepted to travel on the June 8, 2013 flight. Within two weeks Glenn received the call that he would be heading to D.C.
Many men and women of Glenn's generation came home from the war and closed that chapter of their lives. The "Honor Flight" has been for Glenn an epiphany.
A Story of Courage
A member of Patton's Third Army, 26th Division, Glenn talks about the good times of the war like riding a horse for the first and last time when the horse got stuck in the mud up to its neck - with Glenn still on it and how a trip to the outhouse in a quiet town in central Germany could end up with mortars falling and Glenn racing for cover with his trousers still around his ankles.
Other stories are deeper as tears well up when Glenn describes Christmas Eve during the Battle of the Bulge. The cooks managed to prepare a Christmas dinner for the troops on that bitterly cold, overcast night. With hope dwindling a cold front moved in and the skies cleared revealing thousands of American planes flying overhead. And as cargo planes were dropping supplies, ammo, rations and paratroopers it felt like heaven opened its gates and the angels heard the prayers of Glenn and his fellow foxhole friends. Bombers barraged the Germans forces.
Glenn can vividly remember his first prayer of the war. It was shortly after he landed at Utah beach in August of 1944. His division was moving inland through France to help relieve the 82nd Infantry Division. In the middle of a dark, moonless night German mortars began to fly across the sky and one landed in a nearby foxhole. Two young Irish men, (Glenn remembers them from Providence College where they received their basic training for the Air Corps) were killed. They became the first casualties of the 26th Division. As mortars and gunfire erupted Glenn said this prayer, "Dear Lord, get me through this night. I want to die old and have lumbago and arthritis. Amen."
Well the calendar now shows that Glenn is definitely older and we know he survived the war but not without injury. Glenn was injured in Germany when his division was heading toward the Rhine. While getting heavily shelled, a mortar hit the ground and exploded rocks into the air and a chunk of rock ended up in Glenn's back. It was an injury which landed him in the hospital for a week and placed a Purple Heart on his chest.
Glenn's tour of duty lasted from April 1943 to January 1946 including six countries: France, Luxemburg, Belgium, Germany, Czechoslovakia and Austria. Five medals, his Purple Heart and four campaign medals: Northern France, Battle of the Bulge, Central Germany and the Rhineland.
Glenn has one another gift from the U.S. Army. A10% disability insurance for the injury he sustained. When he reached New York January 6, 1946 the Army doctor asked him about his injury. In typical Glenn fashion he told the officer he wasn't concerned about its lasting effect. The doctor said he would give him a 10% disability just in case he developed lumbago or arthritis when he got old. Epiphanies can appear in many different ways.
About Alexian Village
Alexian Village is a "continuing care" senior living community in Milwaukee offering Independent Apartments, Assisted Living, Rehabilitative Services, Skilled Nursing and Adult Day Services. 9301 N. 76th Street, Milwaukee, WI. 53223 http://www.AlexianBrothers.net.