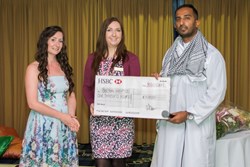 Bolton, United Kingdom (PRWEB UK) 13 September 2013
The Ball, set to an Arabian theme, was hosted to thank employees, suppliers and associates for their hard work in growing the firm, from just 3 people, to over 200 in just 5 years.
The event saw some 200 people turn out in Arabian regalia to revel in Arabian cuisine, music and dance – helping to raise money for Bolton Hospice.
Asons Solicitors has gone from strength to strength over the past 5 years, establishing one of the largest industrial disease departments in the north; whilst growing their newly founded clinical negligence department, helping those who have suffered from poor medical care – the firm, now worth some £30million – is still expanding, with a view to hire an additional 100 people before the end of the year.
Whilst already sizable, Asons intend to develop their industrial disease department to one of the biggest in the UK. To achieve this, they have undertaken an intense recruitment drive, which saw 21 new employees join their ranks over the last month.
Speaking on the event, John King, Head of Marketing, said that:
"Our growth wouldn't have been possible without our great people, and the help of our community. Bolton Hospice provides a critical, local service that is very close to our hearts and so we thought it fitting that we use this as an opportunity to give something back, allowing us to contribute to a very worthy cause."
"Some of our clients have suffered greatly at the hands of others, and they often need palliative care sooner than most. Many solicitors provide legal guidance and support, but we want to go a step further – providing support to those organisations our clients are likely to use, long after they've made use of our own services."
On the night, Stephanie Lacaille, the Community Fundraiser for Bolton Hospice, attended the ball to collect the cheque for £1,000. She spoke at length about the vital care that they provide to local residents, whilst outlining their plans for expansion – by extending their existing wings, they hope to provide care for an additional 4 in-patient residents, taking their total to 18 full-time places upon completion of the work.
"Bolton Hospice is extremely grateful to Asons Solicitors for becoming a Platinum Patron and supporting the hospice in this way. Their support will enable us to continue to provide free, expert end of life care to those who are facing cancer and non-cancer related life-limiting illnesses."
The timing of the event also coincided with the firm's 5th birthday, a significant milestone for what was once a 'micro-firm.'
Speaking on the success of the ball, Practice Manager, Imran Akram commented that:
"The ball was an immense success. It's nice to see hard work rewarded, as we wouldn't be where we are today without our fantastic employees and the hard work that they put in day and night. The legal sector is in turmoil and we're lucky to have brilliant people that have allowed us to weather the storm and succeed, where others have closed their doors."
"I only hope that our good work continues and that we can welcome more bright and talented people into the Asons family."
To find out more about Asons' their community work, visit them at http://www.asons.co.uk.

About Asons Solicitors:
Asons Solicitors is a Bolton-based law practice that specialises in personal injury and industrial disease claims. Founded by brothers Imran Akram and Kamran Akram, Asons Solicitors has developed to become a young and dynamic law firm that delivers practical solutions to clients in times of difficulty. Their continued focus on their staff has seen them awarded with the Investors in People "Gold Award"; which is reflected in the professional and personable approach they take in working with clients. They strive to grow and to develop, and their supportiveness and attention to detail ensures that their clients use them time and again.
For further information contact:
Email: info(at)asons(dot)co(dot)uk
Website: http://www.asons.co.uk